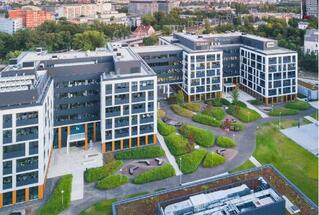 With 117,000 sq m of modern office space, Business Garden Wrocław is the largest office complex in Wrocław and the third biggest in Poland. The developer of the project is Vastint. The first phase of the development, which comprises 38,700 sq m, was acquired by a Philippine-based investor in May 2019.
The three buildings of Business Garden Wrocław, for which Savills acts as the property manager, provide workplaces for nearly 4,000 people. The firm's property management team has been an active community manager in the complex by organising recently a variety of events for tenants, including jar forest design workshops, yoga and Krav Maga classes, ski services, and outdoor movie nights.
"An approximately 1,000 sq m office unit will be vacated in spring. This will be a unique opportunity for companies that would like to have an office in such a premium location and join the community of Business Garden Wrocław. This project is yet another office complex where we are delighted to deliver comprehensive services whilst ensuring the synergy of office leasing and property management," said Daniel Czarnecki, Head of Landlord Representation, Office Agency, Savills.
Source: Savills