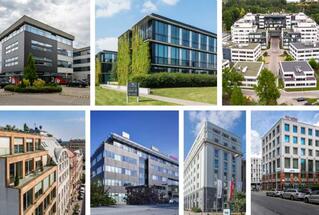 The portfolio comprises a total of approximately 73,500 sq m across seven buildings located in four cities: Warsaw, Krakow, Wroclaw and Katowice.
"The appointment of a single adviser for our entire office portfolio will guarantee seamless collaboration of leasing experts and property managers. This synergy will hopefully have a further positive impact on the implementation of the strategies adopted for these assets," says Katarzyna Parkot, Managing Director of M7 Real Estate in Poland.
The Warsaw assets within the portfolio include the following: Cristal Park, a Grade A building with 10,000 sq m of office space spread over three floors in Jerozolimskie Avenue, Mokotów Plaza, a 15,400 sq m office building in Postępu Street, and Mazovia Plaza, an eight-floor historical building with a total area of 5,100 sqm in Warsaw's Praga district.
Savills will also advise on two modern office buildings in Wrocław: Długosza Business Park and Delta 44, offering 10,705 sq m and approximately 3,700 sq m, respectively. The office complex in Długosza Street was completed in late 2012. Delta 44 is located in the centre of Wrocław, right next to the railway station..
In Krakow, Savills will advise on Nowa Kamienica located in Rakowiecka Street which offers over 3,500 of modern office and retail space,
In Katowice, Savills will advise on Green Park, a complex of eight buildings with a total area of 25,000 sq m in Katowice, located near the Valley of Three Ponds, the city's most popular leisure area.
"It is a great honour for us to be a commercial adviser to M7 Real Estate on its entire Polish office portfolio. All the properties have a value-add potential, which combined with the owner's active asset management strategy will certainly further improve their appeal to tenants in the future," says Daniel Czarnecki, Head of Landlord Representation, Office Agency, Savills.
"The portfolio of M7 Real Estate, on which we have acted as a property manager, has gradually expanded over recent time. We began looking after the first four properties in 2017, and this year we have taken over the others. Each building handed over to Savills represents a new challenge for us and is evidence of the client's satisfaction with our high quality services," says Bartłomiej Łepkowski, Head of Property & Asset Management, Savills.
Source: Savills