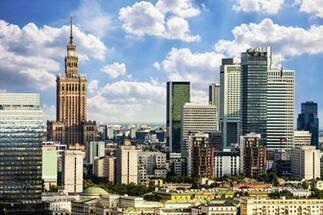 43 per cent employment growth in the sector since 2016
The ABSL report also mentions that in the last three years, employment in business services has increased by 43 per cent. Companies from this sector have the greatest impact on the growth of the job market in Cracow and Wrocław. In these centers, business services are a regional specialty. Cracow is a leader in terms of employment in the industry, where 70 thousand individuals work in 217 service centers. Over 56 thousand employees have 238 branches located in Warsaw, in which the annual increase in employment amounted to 12 per cent, and Wrocław has 47.5 thousand people working in 169 centers. The majority of new jobs created in the last 12 months have been created in these three cities.
In March 2019, there were 1.4 thousand BPO, SSC/GBS, IT, R&D service centers in Poland. From the beginning of 2018 to the end of March 2019, 91 new branches began their operations. Most centers have been opened in Warsaw, Cracow and the Tri-City.
400 thousand sq m. offices leased in 2018 by business services centers
Such a rapid evolution of the business services market in our country has a direct impact on the development of the office segment, which has recently seen spectacular results. One quarter out of 1.5 million sq m. of office space rented in the largest business centers in Poland in 2018 has been leased by outsourcing companies. The demand reported by the business services sector exceeded PLN 400 thousand sq m. last year. In regional office centers, outside the capital, centers generated as much as half of the total transaction volume.
In Warsaw, where 15 new service centers arrived, the demand for office space last year reached 850 thousand sq m. This record-breaking result was achieved also due to the demand generated by companies from the business services segment.
- In addition to the largest agglomerations in Poland and cities with a fixed position on the map of the development of the sector, such as Bydgoszcz and Lublin, where in the last year an exceptionally large number of new investments were noted, smaller cities are now also strengthening their place. Investors from the business services sector appreciated the investment potential of such locations as Opole, Tarnów, Płock, Elbląg, Nowy Sącz, Kalisz, Legnica, Koszalin, Gorzów Wielkopolski and Piła. Therefore, in the near future these markets have a chance to see a big jump, both in terms of development of new service centers and the office segment compared to the current offer. Unprecedented absorption of our office market gives developers incentive to initiate new investments. In the largest business centers in Poland, there are currently 1.6 million sq m. of offices under construction. Half of this space is to be delivered by the end of this year - informs Bartłomiej Zagrodnik, Managing Partner at Walter Herz.
The largest number of new centers is made of Polish companies
It is worth noting that among the new centers in Poland, which have recently been built in Poland, the largest number of investments comes from Poland (21). American companies created 14 branches, German companies 12, British companies 11, and the Scandinavian countries account for a total of 10 new investments.
-A lot of world's top companies invest in Poland. There are as many as 86 investors from the Fortune Global 500 list on our market in the business services sector. On the other hand, the list of 10 companies employing the largest number of professionals in their branches also includes two Polish companies - Comarch and Asseco Group. It should also be noted that due to the exceptional skills of our managerial staff, the handling of complex processes is transferred to Poland. It involves the creation of specialized teams providing global customer service. This trend is visible in several dozen of the largest centers in which business services centers are developing - admits Bartłomiej Zagrodnik.
According to the latest ABSL report, since 2016, the largest number of IT centers has been created in Poland (43 per cent). Shared services centers accounted for one third of the new outlets, R&D centers 15 per cent, and BPO centers 8 per cent. Most of the professionals currently employed in the industry work for the centers belonging to IT companies and the sector of commercial and professional services (58 per cent in total). Next place in the employment structure belongs to banking, financial services and insurance sector (14 per cent).
Services provided in our country target Germany, Great Britain, USA, France and Poland. Over half of the centers operate on a global scale.
Source: Walter Herz