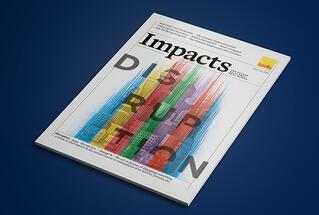 Courageous investors looking for long-term returns should look to Middle Eastern, Indian and second tier Chinese cities, such as Riyadh in Saudi Arabia and Delhi in India, as the markets that are likely to grow in the face of global disruption in the coming decades, but today remain relatively untapped, says Savills.
These regions are home to the 'challenger cities' identified in Savills Resilient Cities Index, as part of its Impactsresearch programme, where the international real estate advisor examines which cities will be able to withstand or embrace the technological, demographic, and leadership disruption facing global real estate today and in 10 years' time.
While the ranking finds that New York, Tokyo, London and Los Angeles are the top four most resilient cities today, and will remain so in 2028, Savills highlights eight 'challenger cities' that will enter the top 50 and make the biggest leaps up the ranking in the next decade.
These 'challenger cities' are poised to compete with established cities by using disruption to their advantage as they are often able to respond faster and more flexibly to swift changes in technology and society, says Savills, and are therefore ones to watch by real estate investors ready to take a long-term view. No contenders from either the US or Europe have been awarded 'challenger city' status by Savills, with London and Paris the only European cities ranked within the 20 most Resilient Cities Index.
"What our eight challenger cities have in common, says Sophie Chick, director in Savills world research, "is that they are all likely to see substantial increases in their GDP and growth in household incomes, while their dependency ratios – the proportion of people of a non-working age to those of a working age – will either fall or increase at a lower rate than other major cities between now and 2028. This indicates that they are set to be young, prosperous, and able to adapt to changes in the way the world operates at a faster pace than some better known locations."
Simon Hope, head of global capital markets at Savills, comments: "The list of the world's top global cities may feel like it's almost set in stone, but, as is becoming apparent, disruption is on the menu and we are set to see some sweeping changes to the way society functions and how businesses operate in the next 10 years. For real estate investors, our Resilient Cities Index shows that the long-established global cities will withstand much in the next decade, which is why they've seen high levels of investment as they are perceived as 'safe havens' for capital, with the top 10 global destinations for both domestic and cross-border capital in 2018 reflecting this old world order. However, as a result, their real estate assets have become correspondingly expensive and highly sought after.
"As such, our eight 'challenger cities' may offer alternative investment destinations. While not without risk, these cities are set to accelerate up the ranks as they demonstrate their resilience to the challenges ahead and investors should start investigating how to secure a footing in these markets if they're willing to sit tight and take a long-term view. One in five people in the world are Chinese and as their economy continues to grow they will through the effluxion of time become the world's largest economy, so in particular our Chinese 'challenger cities' will offer a wealth of opportunity," - Simon Hope adds.
Paul Tostevin, director in Savills world research, adds: "All our 'challenger city' contenders are from China, India and the Middle East. While some of these, such as Delhi, Mumbai, Bengaluru, Riyadh and Jeddah are known internationally, they are generally yet to make it onto the global real estate investors' radar. Those in China - Hangzhou, Nanjing and Ningbo - aren't well known at all, despite having large populations. What all of them have in common, however, is that they have young populations, are increasing in prosperity and should be able to swiftly pivot in response to the disruption lying ahead."
"Deep structural changes in demography and technology and their impact on the real estate market are also visible in Poland, where large urban centers also come out with a defensive hand, quickly adapting to the changing landscape. Certainly, as in the leading agglomerations in the world, the inflow of young people and the concentration of business and services in Warsaw supports this. For years, Poland has been at the forefront of economic growth in the EU. Entering the EU in 2004, Poland's GDP in Purchasing Power Standards was more or less at the level of 50% of the EU average. In 2017, this level exceeded 70%. According to data published recently by Eurostat, Warsaw ranked 19th in the ranking of EU regions with the highest GDP per capita (PPS), overtaking such centers as Vienna or Salzburg. And although in nominal terms, the level of affluence of Polish agglomeration residents is still significantly lower than in the leading markets of Western Europe, it is the dynamic economic growth of major urban centers that is attracting investment capital, giving real prospects for higher returns on investment in commercial real estate than in major centers business of the old world order," – says Michał Stępień, Associate, Investment, Savills Poland.
Source: Savills