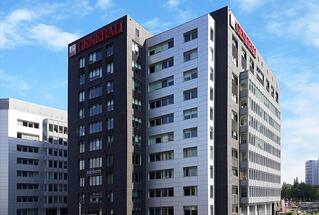 Marynarska Point I is an office building located at 15B Postępu Street in the Służewiec area in Warsaw. It will soon benefit from transportation improvements following the redevelopment of Marynarska Street, which will provide three traffic lanes in both directions, new bicycle lanes and pavements.
"We are very pleased with this mandate. Our task is to add more value to the building and further improve its appeal to its current and future tenants. Within just a few days from taking over the management of the building we successfully generated savings by bringing down the operating costs related to some of the property services," says Bartłomiej Łepkowski, Head of Property and Asset Management, Savills.
Marynarska Point is part of Savills IM European Office Fund's portfolio, an open-ended special fund for institutional investors managed by Savills Investment Management. It offers 12,055 sq m of modern office space and additional retail space on the ground floor. Its key tenants include among others Generali, a leading global insurance group. The property has been BREEAM In-Use certified.
Source: Savills