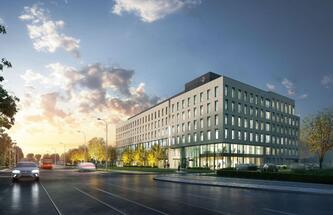 New leases accounted for most of the volume (68 pct), while renegotiations made up 28 pct over the period. Out of that total, 24,400 sqm was transacted in Q2, up by 65.7 pct on the same period last year. New leases in Q2 accounted for most of the leasing volume (79 pct), while renegotiations made up 21 pct. There were no expansions or owner-occupier deals.
Research shows that employees in Wrocław want to return to the office, but most of them prefer a hybrid work model. Occupier activity has clearly picked up on the office leasing market compared to the previous year, when many companies put relocation decisions on hold. Buildings with high-tech solutions such as antibacterial air-conditioning or contactless operation are in demand. Asking rents remain unchanged, but landlords have embraced a more flexible approach to negotiations of lease financial conditions due to higher vacancy rates.
Izabela Kołcz, an advisor at Cresa Poland
The largest transactions in H1 included: a 12,300 sqm pre-lease in the MidPoint 71 building by 3M Service Center EMEA, a new 4,500 sqm lease in Carbon Tower by a confidential tenant from the financial sector, and a 4,200 sqm renegotiation by Unit4 in the Globis building.
Office absorption for the first half of 2021 reached 20,200 sqm, representing a 16.2 pct decrease on the same period last year, while in Q2, the figure came to 10,600 sqm.
Wrocław saw its office stock expand by 4.8 pct y-o-y to 1.24 mln sqm at the end of H1. Only one office building was added to the Wrocław market: Atal's Krakowska 35 development (11,800 sqm). The current development pipeline comprises more than 112,000 sqm of office space.
The vacancy rate was 14.1 pct at the end of June , down by 0.1 pp on the previous quarter but up by 2.9 pp on the same period last year.
Monthly asking rents currently range between EUR 10 per sqm (outside the city centre) and EUR 16 (in the city centre).