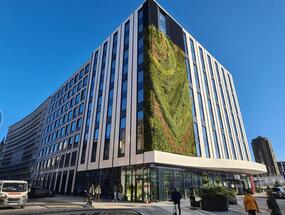 The hotel, which will operate under the Accor brand, has 268 rooms on eight floors. It is LEED 'Platinum' certified and recently also received the PLGBC Green Building Award 2021 for sustainable real estate development. It has been sold by UBM to Union Investment in a deal that was announced in early 2020.
With the opening of a hotel in one of Poland's largest industrial regions, we want to play a decisive and active role in the green transformation of Katowice. Environmentally-friendly technology can be found in every corner of the Mercure Katowice Centrum – from the planted wall on the building's façade to sustainable solutions in the interior, including the use of environmentally-friendly materials, renewable energy sources, rainwater and an advanced monitoring system for the water and energy management.
Andrzej Kleeberg, Mercure Katowice Centrum's general manager
The 18m high, 260 sqm green façade features around 7,000 plants rooted in textile panels made of recyclable materials. Photovoltaic panels have also been installed on the roof.
The hotel also offers 100 sqm of conference space and parking for 70 vehicles in the underground car park.
The use permit has also been issued for the Młyńska.6 office building, which forms part of the complex
The 8-storey boutique office building contains almost 2,600 sqm of leasable space. Colliers is the exclusive advisor for the leasing of the space.
The office building features a BMS system, fibre-optic cables and an access control system. It is also equipped with facilities for people with disabilities.