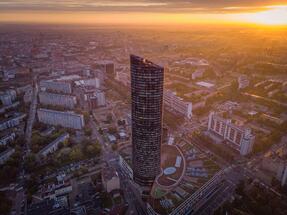 The offer of the EMC group will complement the offer from the healthcare sector provided by the tenants of this facility - there are, among others, Analgomed pain treatment clinic, Optegra ophthalmology clinic or Harmonia Luxmed mental health clinic.
The EMC Group comes from Wrocław, where it opened its first hospital 20 years ago. In the following years, the network providing private medical services grew to 10 hospitals and 26 clinics, located in six provinces. The group also runs one geriatric hospital and eight long-term care facilities. EMC is part of the international holding of hospitals and clinics Penta Hospitals International.
The main tower in the complex is 212 meters high and has 51 floors. There is a glass viewing point on the 49th floor. The shopping center located on the lowest floors has approximately 171,000 sq m. sqm surface. In the recreation area there is an entertainment gallery, spa, sports and medical center. Sky Tower also has an entertainment zone. Customers can use the Sky Bowling bowling alley. There is also the first Agustin Egurrola dance school in the region - Egurrola Dance Studio Wrocław. Drivers have 1.5 thousand at their disposal. parking spaces. The owner and manager of Sky Tower is Develia.