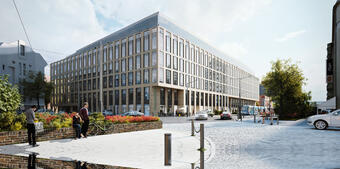 The contract with the international chain of Synexus clinics covers over 1,500 sqm and means a beginning of the leasing process in Echo Investment's project in Wroclaw. The area leased by Synexus exceeds 1,500 sqm.
 
"Nobilis Business House is an excellent offer for companies which appreciate a good location and comfortable working conditions. Thanks to modern and ecologically friendly solutions in the designed building, tenants of our office can count on lower operating costs and amenities which will make everyday use of building's functions easier. Synexus will occupy an area on the ground floor and the first floor of the office building. We are very satisfied with the cooperation. This is one more client representing the medical industry to have trusted Echo Investment's standards," said Katarzyna Kubicka, senior leasing manager from Echo Investment's Office and Hotel Department.
 
The office building obtained a BREEAM certificate in autumn last year reaching a very high score (72 percent), which resulted in an Excellent rating. The construction of Nobilis Business House is on schedule. The completion of the construction work is planned for August this year.
 
Nobilis Business House offers an office area of 16,000 sqm. The project covers a one-storey underground car park. Office teants will be able to use: an access control system, fast lifts, energy-efficient air-conditioning and ventilation, a humidity control system and a friendly lighting system. There will be also 72 parking spaces for bicycles as well as changing rooms with showers and drying rooms. Last but not least, a canteen, some service outlets and outdoor relaxation areas will be provided.