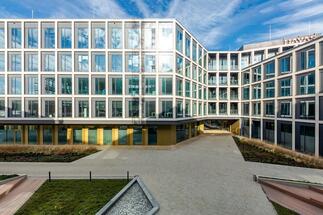 Moje Miejsce I, in the city's Dolny Mokotów district, comprises almost 19,000 sqm of leasable space, leased to such tenants as Havas Group, Mastercard, Hebe, Corteva, and CitySpace. It forms part of the Moje Miejsce multifunctional project made up of two office buildings, apartments, green space, retail and services.
Moje Miejsce features well-designed urban space that combines various functions. The Moje Miejsce I office building, which constitutes an important part of this project, is almost 100 pct leased, which confirms that tenants and their employees appreciate sustainable and multifunctional locations. The building, thanks to the environmental features and distinguished tenants, is an excellent investment product with a guarantee of stable income for a long-term investor.
Małgorzata Turek, a member of Echo Investment's board responsible for investment department
Moje Miejsce I is BREEAM 'Very Good' certified. A total of nearly 120 trees have been planted within the Moje Miejsce project, which is bounded by ul. Dziekońskiego, ul. Beethovena and ul. Aignera.