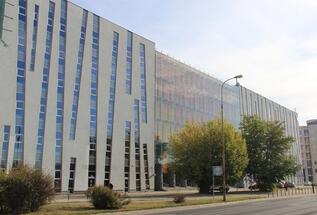 Ars Medica is a popular chain of pharmacies based in Wrocław. Their shop in Legnicka Park Popowice, which is over 160 sq m, is planned to open in April 2016.
"Ars Medica has been present on the local market since 2009 as a chain of budget-friendly pharmacies. We are proud of our highly qualified staff, who provide the customers with professional advice and comprehensive information. We offer a wide range of medicines, dietary supplements, and active cosmetics, as well as preparing compounded prescription drugs, including sterile and ophthalmic drugs. Thanks to several deliveries a day, we guarantee constant availability of all medicines, including those that are rare and in short supply. We have been enjoying a steady growth of consumer trust," said Dominika Wiosna, Pharmacies Coordinator, Ars Medica.
Ars Medica is the fourth retail tenant in the building. So far, BiZ Bank, Neckermann (travel agency) and Sklep Biegacza (sports equipment) have decided to open their business here. There are still three units left to lease, with a total area of over 550 sq m.
Legnicka Park Popowice is a modern office and retail complex located in Wrocław. It is situated near a large residential area, on Legnicka 55. Located only 500 m from the scheme is the Magnolia Park shopping centre. There is convenient access to the area both from the city centre and other districts, as well as the airport and motorway. The building was completed in 2008. It offers ca. 8 600 sq m of retail and office space on five storeys, as well as 167 parking spaces.