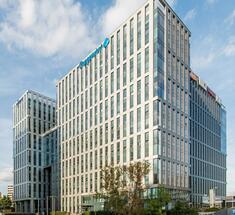 Quattro Business Park is an office complex comprising five buildings (A, B, C, D and FIVE) with a total area of ​​66,000 sq m. sqm It is located in the north-eastern part of Krakow, at al. Gen. Bora-Komorowskiego 25, in the area of ​​Polsad roundabout.
I am convinced that the new office in Quattro Business Park will meet the expectations of the new tenant. As the owner and manager of buildings, we are constantly working on adapting our office buildings to the needs of our tenants and the highest market standards. Many interesting changes will soon take place in Quattro Business Park, also in its surroundings, because the district is constantly developing - informs Julie Archambault, asset management & leasing director at Globalworth Poland.
Quattro Business Park will soon undergo modernization, thanks to which it will gain new functionalities and amenities. The internal patio between the buildings will change, as will the reception halls and common areas. Building installations will be modernized, and the entire facility will be adapted to the requirements of the "Object without barriers" certification. In recent months, the complex has been equipped with chargers for cars, bicycles and electric scooters, and a parcel locker has also been built.
The employees and guests of Quattro Business Park have at their disposal an underground and above-ground car park for 1.3 thousand. cars, as well as the commercial and service infrastructure located within the complex.