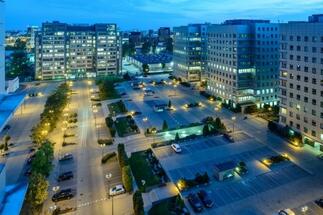 "Several years ago, few would have dared to say that Służewiec was a good place to live. The area called Mordor would empty after 6 pm. Today, it is seeing many new residential developments and measures being taken to deal with its infamous traffic jams. There are also plans for linear parks and it is only a matter of time before more F&B and leisure facilities are developed. All this has already altered the face of Służewiec in many respects, but given the scale and pace of this positive metamorphosis, this area may soon look completely different from what it has been so far associated with," says Daniel Czarnecki, Head of Landlord Representation, Office Agency, Savills.
The state of transport infrastructure has always been a major concern in Służewiec. 2019 appears to be a ground-breaking year in this respect and raises hopes for tangible transport improvements. The long-awaited redevelopment of Marynarska Street was completed in May and provided three traffic lanes in both directions and a flyover to ease the traffic congestion in Domaniewska Street. There are also plans to build a road linking Suwak and Cybernetyki streets, and a new tramline running to the Wilanowska metro station.
Służewiec has been largely associated with office buildings for many years. According to Savills data, its total office stock currently amounts to more than 1.1 million sq m. Since 2005, nearly 2 million sq m has been transacted in Służewiec, accounting for more than 23% of the overall leasing volume recorded in Warsaw. Rental rates range between EUR 13.00-14.75/sq m/month, while Class B office buildings command rents starting from EUR 8/sq m/month.
Office development activity in Służewiec has been fluctuating with peaks recorded in 2008, 2009, 2013 and 2015. At present, there is only one office building under construction: the head office of DSV. To fight off competition from other office locations in Warsaw, property owners in Służewiec have begun to invest in upgrades to adapt their office buildings to tenants' changing requirements. 44% of Służewiec's office stock was developed at least ten years ago; of that total, 61%, or nearly 300,000 sq m, has been or will be refurbished or modified in the near future. Several examples may be found, including part of the Empark complex that will be redeveloped as a housing estate, Tulipan House, whose landlord is planning to build an innovative lobby with ample cycling facilities, as well as Signum Work Station, Innova Work Station and Marynarska Point 2.
"Służewiec has been trying for some time to debunk the claim that it is a no-go zone for tenants. Its vacancy rate has stood at 18-20% for the last three years. Pre-2009 office buildings have three times more vacant space than schemes aged less than ten. However, taking account of structural vacancies comprising less attractive office space that has remained unoccupied for at least three years, the district's vacancy rate is just 13%. Dozens of lease agreements are finalised in Służewiec every year, and 2018's office take-up hit more than 161,000 sq m, of which approximately 40% was transacted under renewals and renegotiations. This data illustrates that contrary to a widespread opinion, there's a large group of tenants loyal to Służewiec and the changes taking place in the area are likely to strengthen its position on the office map of Warsaw in the longer term," says Wioleta Wojtczak, Head of Research, Savills.
According to Savills experts, a revival of interest in Służewiec is likely to be fuelled by the rise of flexible offices - one of the strongest recent trends on the office market. They provide an opportunity to rent small office units for short periods and are an ideal tool to find out how much this part of Warsaw has changed. There are currently six leading providers of coworking and serviced offices in Służewiec offering approximately 21,000 sq m of space in 11 locations. The concept of co-sharing has spread beyond the office sector to other areas with the Veturillo rental bike system (10 stations), car-sharing and most recently e-scooters becoming popular.
Despite its large office stock, Służewiec has been a blank spot on the hotel map of Warsaw. Its first hotel (Hampton by Hilton Mokotów) was opened in 2018. There are already three in this area today. According to the data of Hotel Professionals, hotels located in Służewiec offer a total of 517 rooms. The four planned new projects will take this tally to approximately 1,600 rooms. New hotels which form an integral part of any business infrastructure provide not only accommodation, but also catering and conference facilities for office tenants in Służewiec.
The transformation of the monofunctional character of Służewiec is being spurred on mainly by a growing number of residential projects in the area. The Lepszy Służewiec association estimates that by 2020 this region's housing stock will rise by 50% from approximately 8,000 apartments at the end of 2018 to the forecasted 12,000. Housing demand in this part of Warsaw outstrips supply. According to the data of redNet Property Group, in 2018 the number of flats sold in the Industrial Służewiec area was more than 50% higher than the volume of housing units coming onto the market. Poland's first co-living project will also be developed at the corner of Domaniewska and Postępu streets as an alternative to traditional home renting with a wide range of amenities for residents and a spirit of being part of a community.
"This region is becoming ever more sustainable thanks to the dialogue involving developers, landlords, tenants, inhabitants and officials, and supported by such associations as Lepszy Służewiec. Służewiec is undoubtedly at one of the early stages towards its complete transformation, but looking at what has already been done, the outlook remains positive. The changes underway complement this area's consistent and indisputable advantage: its proximity to the airport and the centre of Warsaw, and a large concentration of companies cooperating with one another on a daily basis without having to travel to other regions of the city," concludes Daniel Czarnecki, Savills.
Source: Savills