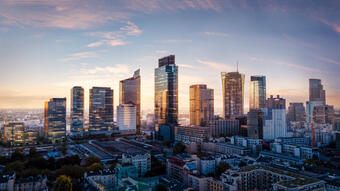 Take-up: Warsaw is entering a phase of lease renewals
Total office take-up for the first three months of 2023 amounted to almost 159,000 sq m, down by 40% from the same time in 2022. This result, however, put Warsaw in third place in Europe, behind Paris and London, but ahead of Berlin, Prague, Madrid, Munich, Hamburg, Frankfurt and Rome.
"In 2023, the Warsaw office market has entered a period of renegotiating leases made in the peak years of 2018-2019. The increased focus on renewals expected to commence any time soon is likely to boost office demand throughout 2023. Economic uncertainty reflected in worsening economic indicators is, however, likely to weigh heavy on this year's total leasing activity", says Joanna Blumert, Head of Occupier Services, Cushman & Wakefield.
In the first quarter of 2023, the structure of demand was dominated by relocations which accounted for around 70% of all deals. Renegotiations and expansions made up 25% and 5% of the leasing activity, respectively.
The largest transactions of the first quarter of 2023 included the renewal of Accenture's lease of 8,800 sqm in Proximo II, DPD's lease of 8,700 sqm in its new headquarters and a lease for 7,000 sqm in P180 signed by a confidential tenant from the business services sector.
Supply: the number of new projects in the centre of Warsaw is on the rise
In the first quarter of 2023, the total office stock in Warsaw was 6.26 million sqm. Cushman & Wakefield estimates that this year the Warsaw office market will expand by around 66,000 sqm to be delivered across seven office projects. Of that total, as much as 80% will come on stream in non-central zones. The number of projects underway is, however, relatively low compared to the development activity recorded in the years 2012-2022.
"Around 181,500 sqm is currently under construction, but several new office starts are expected in the centre of Warsaw in the coming months - these include Upper One of STRABAG Real Estate, The Form of Lincoln Properties and Karimpol's Skyliner II, which are scheduled for delivery in 2025-2026. That said, the Warsaw market will continue to suffer a supply gap until late 2025", comments Joanna Blumert.
Office construction and fit-out costs will continue to rise throughout 2023, but at a slower and more predictable rate than in early 2022, says Cushman & Wakefield.
"The greater control over development costs is likely to incentivize investors to launch new office projects. However, most projects which are expected to break ground in the next 12 months will be in prime locations so that developers can maximize their returns", adds Jan Szulborski, Office Market Expert at Cushman & Wakefield.
Rents: the location, quality and occupancy levels of office buildings to be key drivers of office rental growth
In the first quarter of 2023, prime office rents in Warsaw remained unchanged since 2022 and stood at €22.00-26.00/sq m/month in the Centre and at €13.50-16.50/sq m/month in non-central locations.
Cushman & Wakefield has observed that projects in the pipeline are experiencing the strongest upward pressure on rents due to their significant exposure to rising construction and fit-out costs.
"In addition, rental growth for the broader office market will be driven by the record-high indexation under EUR-denominated leases, rising construction, fit-out and operating costs. However, the pricing policy of landlords will largely depend on the location, quality and occupancy levels of their buildings portfolios", says Katarzyna Lipka, Head of Consulting and Research, Cushman & Wakefield.
Vacancy rate to remain on a downward trend throughout 2023
In March 2023, office availability amounted to 724,600 sqm, marking a decrease of around 35,000 sqm compared to the same time in 2022. In the first quarter of 2023, Warsaw's vacancy rate stood at 11.6%, down by 0.6 pp year-on-year but unchanged quarter-on-quarter.
"With new office supply expected to be limited in 2023-2025, the city's vacancy rate will remain on a downward path, allowing the Warsaw market to absorb the surplus office space from existing stock, which occurred due to the temporarily weaker demand in 2020-2021. The rate of absorption will, however, largely depend on the pace of economic growth, which will impact investment and staff hiring decisions alike," concludes Vitalii Arkhypenko, Office Market Expert at Cushman & Wakefield.