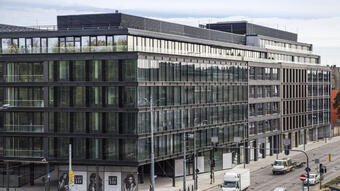 Developed by the International WELL Building Institute (IWBI), the WELL Health & Safety Rating is a response to the COVID-19 pandemic and other threats to the health and safety of building occupants. It provides an objective, research-supported way to show that the procedures implemented in the building and regular inspection of its key systems (such as ventilation and water installation) have a positive impact on reducing the risks associated, among others, with the pandemic. This certificate also has a broader application in supporting the long-term health and safety of people in a given space.
Both facilities were recognized for solutions implemented in areas such as disinfection and cleaning procedures, emergency preparedness plans, health care availability, water and air quality management, stakeholder engagement, communication and innovation. "In times of pandemic, the health and safety of all users of our buildings is extremely important to us. The WELL Health & Safety Rating certification confirmed that our facilities in Poland meet world-class standards in this area. We are perfectly prepared for the return of employees to their offices, as well as for potential future emergencies," said Jerzy Krogulec, president of Warimpex Polska.
Mogilska 43 Office and Ogrodowa Office buildings have also recently been awarded BREEAM certificates with "Excellent" rating. BREEAM In-Use International is a multi-criteria system for assessing existing buildings. Its main purpose is to reduce the negative impact on the environment and the operational costs of buildings. The certificate, awarded by Building Research Establishment (BRE), is one of the world's most important elements that set standards in the design of sustainable and ecological buildings. Particularly highly rated were their convenient location and close proximity to public transportation, facilities for cyclists, high building comfort, effective waste management and the use of local materials with appropriate environmental certificates.
"The certificates obtained by Mogilska 43 Office and Ogrodowa Office reflect our principle of respect for health and the natural environment in the buildings we construct. From the moment of obtaining this rating we are sure that our buildings are truly ecological, and the solutions we introduced have a positive impact on the well-being and comfort of work of their users. We are delighted that our portfolio has been expanding with new BREEAM-certified buildings, especially at such a high rating," said Jerzy Krogulec, president of Warimpex Polska.
Source:// Property Forum