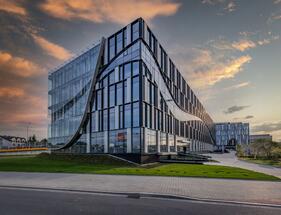 The new office of GP Strategies Poland will be located on the fourth floor of this five-story A-class building. The American company is a partner in human resources transformation and a global supplier of customized educational solutions - from the front line to C-Suite.
The first building, Ocean Office Park A, was commissioned in March this year. The project offers about 12 thousand. sq m of office space and 202 parking spaces in the underground garage on two levels. In addition to parking spaces for bicycles, the infrastructure for cyclists was also taken care of - changing rooms and showers. The complex obtained the BREEAM certificate at the Very Good level.
Ocean Office Park is a complex of office and service buildings, which is being built at the intersection of Klimeckiego and Nowohucka streets, in the Zabłocie district of Krakow.