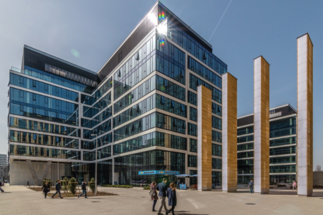 An investment that offers over 100,000 sqm of commercial space, is part of the Savills Investment Management portfolio. During the transaction, the tenant was advised by AXI Immo.
Techland is a Polish independent producer of AAA games available on PC, Sony PlayStation and the family of Xbox One devices, including Xbox One X. Founded in 1991, the company currently employs almost 400 professionals located in three offices in Poland - Ostrów Wielkopolski, Warsaw and Wroclaw. The most popular Techland titles include Dead Island, the Call of Juarez or Dying Light series, which are loved by millions of players around the world.
- Techland has chosen one of the key public transport points in Warsaw for its office. The vicinity of the Gdańsk Railway Station provides access to all means of public transport. In the vicinity of the Gdański Business Center complex, there are tram and bus stops, a long-distance train allowing easy access for employees living outside the Warsaw agglomeration, as well as the Dworzec Gdański metro station. Adding to this the green surroundings of buildings and a wide range of nearby services, we get ideal working conditions - comments Emil Chwieduk, Senior Negotiator in the Office Agency Department, AXI Immo.
Gdański Business Center is a modern complex of four A-class office buildings offering 101,000 sq m of office space. sqm commercial space. The investment, which can boast the BREEAM environmental certificate at the Excellent level, was purchased by Savills Investment Management on behalf of one of the global pension funds.