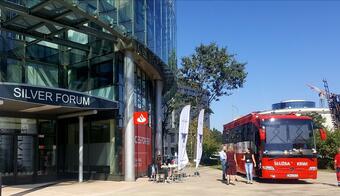 UNITY, an IT services provider, has signed an almost 1,900 sq m office lease at Silver Forum in Wrocław. Kensington Silver Forum Sp. z o.o., the owner of the office building was represented by property manager MULTI POLAND Sp. z o.o. and global real estate services firm Cushman & Wakefield, which is the exclusive commercialisation agent for the building. The tenant was represented by Nuvalu Polska.

Silver Forum is a modern Class A office and service building located in the immediate vicinity of Strzegomski Square, in the Old Town district, and is a natural gateway to the western business zone. The building enjoys first-rate access to public transport and a prime location on the map of Wrocław. Silver Forum offers more than 15,000 sq m of office space.

"In this transaction we successfully met the high expectations of UNITY, which subsequently decided to join other tenants of Silver Forum. The office space leased by UNITY will be fully tailored to their technical requirements. It is important insomuch as tenants from the modern business services sector require a high office standard that is in line with the latest trends and appropriately suited to the nature of their operations," said Marcin Siewierski, Associate, Office Agency, Cushman & Wakefield.

"Silver Forum is currently undergoing an advanced process of recommercialization. We are glad to host UNITY as a one of the key tenants in our office. We are pleased to gain trust of a company that decided to relocate the headquarters to Silver Forum in Wroclaw," – said Małgorzata Słowik, Multi's Head of Leasing.

UNITY S.A. has 22 years of experience in IT projects providing companies with technological support in their digital transformation. It delivers design, implementation and maintenance of IT solutions in business processes, design of websites and e-commerce systems. Unity S.A. has offices in Poland, Switzerland and USA.
Source: Cushman & Wakefield