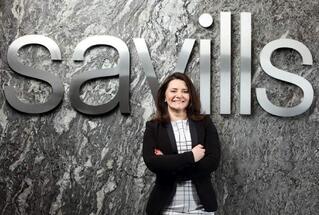 Jeremy Bates, EMEA head of occupational markets at Savills, says: "As the European economy edges nearer to full capacity, job growth will remain positive, but more modest than in recent years. The strongest growth will come from the knowledge-led sectors, including professional services, science and high-tech. The occupational story remains resilient, though European occupiers will be more cost-conscious as productivity moderates, and will therefore look to adopt new workplace strategies to boost output and control costs."
In Warsaw, total volume of letting activity between January and September 2019 stood at close to 690,000 sq m - a record level ever observed during that period in Warsaw. When we take into account the last 12 months (Q4 2018-Q3 2019) total take-up reached almost 922,000 sq m. High demand for office space resulted in yet another drop in vacancy rate to 8.2% on average in the city, and even lower (5.5%) in centrally located buildings.
The shortage of available space is pushing new office demand out to fringe markets, where opportunistic investors are pursuing opportunities to refurbish, re-let and sell on. It is also driving increasing demand for flexible office space across Europe.
Wioleta Wojtczak, Head of Research at Savills Poland, says: "Demand for office space in non-central locations in Warsaw typically stand at 55-60% of gross take-up, which is in line with geographic distribution of office space across the city as ca. 60% of office supply is located outside of the city centre. For some time now central locations in Warsaw attracted a large part of developers activity, and projects that are built there are sought after by many companies. As competition from new or newer buildings is growing, owners of older properties are required to refurbish their assets to improve their attractiveness to both new and existing tenants. The scale of refurbishment is different, but some of the most common include redevelopment of the main lobby of the buildings and common areas as well as implementing new technologies and solutions."
Mike Barnes, associate, European research, Savills, says: "The combination of good underlying demand and low vacancy rates has applied accelerated rental growth in 2019. Indeed, prime CBD office rents have risen 6.2% on average over the past 12 months, up from 4.0% over the previous 12 months.
"Looking ahead into 2020, prime office rents are forecast to grow by an average of 2% across the surveyed cities, with among the strongest levels of rental growth in Stockholm (6%), Amsterdam (6%) and Luxembourg (6%). We still expect upward rental growth across the majority of the German cities, though at a lower rate than we have witnessed in 2019 due to a slowdown in the German economy and forecast reduction in demand and take-up. The majority of cities will be experiencing growth of around 1% given a lack of new speculative product coming to the market."
2019 has so far been another boom year for flexible offices across Europe. 687,000 sq m of space has been signed for by flexible office operators between Q1 and Q3 2019, 15% above the equivalent level over the same period in 2018.
Jessica Alderson, global research analyst at Workthere, Savills flexible office specialist, states: "New, niche operators are entering the market, reducing the operating profit margins on offer for the more established players as landlords weigh up opportunities to launch their own co-working space to increase income streams. Examples include The Office Operators (TOO) signing in Almere, the Netherlands, during Q1 2019 and French company, Wojo, setting up business in Barcelona, where they will occupy 8,000 sq m of a newly-developed office building in 22@. In 2018, flexible office take up accounted for 10.2% of Europe's office take up, which has risen to 12% of total take up in Q1-Q3 2019."
According to Workthere, across Europe, the average number of desks required within a flexible workspace increased by 7% in the first nine months of the year to 12.5 desks as the landscape further shifted from individual freelancers looking for coworking memberships to dedicated private offices for companies.
The biggest differentials between the capital and regional city desk prices are in France and the UK. In France, the €700 monthly desk prices in Paris are roughly double that of Lyon, Marseille and Nice. In the UK, the £700 (€819) monthly desk prices in London are also approximately double that of the regional cities such as Manchester, Birmingham, Leeds and Reading. There is also a noticeable differential in The Netherlands, with the average desk prices in Amsterdam being 54-67% higher than The Hague, Eindhoven, Rotterdam and Utrecht. Germany, Ireland and Spain have slightly more homogenous prices between the major cities, with differentials of broadly 20-30%.
Jeremy Bates adds: "Flexible offices will continue to grow as 'space-as-a-service' becomes more mainstream across European markets and we expect to exceed 13% of total office demand in 2020, although we do expect to see more landlords creating their own operational offering. Those cities with higher tech occupier bases should see the strongest increases in flex space demand as startups seek space on a per-desk basis. Naturally, the more traditional lease will work more effectively for corporate occupiers who are planning their real estate decisions on longer time frames."
Source: Savills