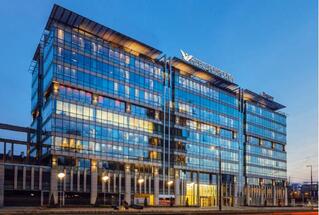 Prosta Office Centre was developed in 2006. The property offers approx. 20 000 sq m of office space. It is located in the immediate vicinity of the western part of Warsaw city centre, being one of the most recognisable landmarks of Wola district. The office scheme received BREEAM Very Good certificate. Prosta Office Centre is the headquarters of, among others, Gremi Media publishing house, the owner of Rzeczpospolita, one of the leading business daily newspapers in Poland. Other main tenants of the property include: Oracle, Caterpillar Financial Services, Caixa Bank, Kontomatik, Kreditech, Lux Med, Tom Tom and Trustwave.
"The sale of Prosta Office Center was planned in accordance with our strategy. We have conducted successful asset management activities. Since its acquisition we have made improvements in the building, attracted new tenants as well as extended the existing lease agreements. I believe Prosta Office Center is a great investment product in a fast growing business district," - says Karol Pilniewicz, Head of CEE, Cromwell Property Group.
In 2018 KGAL acquired Spark C office building in Warsaw, fund's first property in Poland. The investor was supported in its entry into the Polish market by Savills.
"Prosta Office Centre was one of the first modern office properties located near Daszyńskiego Roundabout, long before this neighbourhood turned into the fastest-growing Warsaw business district with over 400 000 sq m of office space currently under construction. I am confident that the asset will benefit from the ongoing developments, which will further increase the attractiveness of this location," - says Marek Paczuski, Deputy Head of Investment, Savills Poland.
Cromwell Property Group was advised by Savills (investment agent) and Greenberg Traurig (legal adviser), while KGAL was represented by Colliers and DLA Piper.
Source: Savills