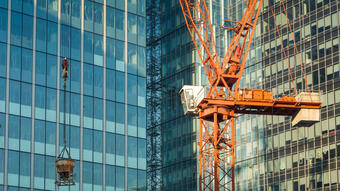 The set of large-scale ongoing projects includes the Polimery Police project at Zaklady Chemiczne Police, which was launched in January 2020, and the construction of power-generating units at facilities in Jaworzno, Bogatynia and Ostroleka, all of which face increasing difficulties, according to the findings presented in a report released by Spectis.
The value of 25 megaprojects in planning, as identified by Spectis experts, is PLN 295 billion (€66 billion), almost half of which is presented by industrial structures associated with the broadly-defined power sector. Nuclear power units planned in the Pomeranian region account for almost 50% (about €16 billion) of all power and industrial projects in terms of value, while two offshore wind farms, the first-ever to be built by Poland, can involve the spending of a further €11 billion.
The construction of the Central Communication Port (CPK), which is a hub integrating air, road and railway transport projects, is estimated to cost PLN 35 billion (€7.8 billion) and represents around 12% of the megaprojects planned.
Lodzkie, Dolnoslaskie and Opolskie are the only three voivodships out of 16 Polish regions with not a single megaproject planned, though it should be noted that a large-scale project was recently completed in Opolskie (involving two coal-fired units at the Opole Power Plant), whereas a major project is due to be completed shortly in Dolnoslaskie (a power-generation unit at the Turow Power Plant in Bogatynia).
Importantly, the planned projects should not be looked at as a way out of the pending crisis. For most of the presented projects, many quarters or even years will need to pass before the first shovel hits the dirt. Traditionally, megaprojects are also subject to a high risk of significant delays in the preparation stage. On top of that, some of them may never really materialise. This does not necessarily have to be a reason for concern because the construction industry has limited capacity, which is entirely unlikely to grow significantly in the short term. The current value of backlogs held by the top 20 construction companies has recently hit an all-time high of over PLN 60 billion (€13.4 billion). On the other hand, small and medium-sized construction firms specialised in handling residential, non-residential and local government projects have had to face a shortage of orders. And it is precisely these highly fragmented and decentralised sectors of the construction industry that can be the most effective channel for stimulating the economy through investment.
Source: property-forum