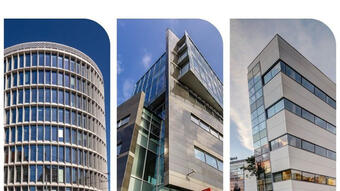 The Covid-19 pandemic has completely changed the approach to health and well-being in office spaces. Property managers and owners have begun to pay more attention to ensuring hygiene, controlling building access, and promoting healthy behaviour to support tenants in creating a new work environment. The WELL Health-Safety Rating certification, developed with the safety of building users in mind, verifies the effectiveness of these procedures.
"The returns to offices after lockdowns have been the impetus for many changes, and the well-being of employees has become a top priority for tenants, office building owners, and us managers alike. The specific solutions related to the safe use of buildings helped to gain the user's confidence. Today we already know that these practices were not just a need of the moment, but have stayed with us for good. Receiving the Well Health-Safety Rating certification for the PRO Portfolio buildings we manage for another year is not only an achievement for us but also a commitment to continue improving standards by investing in modern technologies and conducting educational activities", explains Leszek Sybura, Director of Operations, MVGM Polska.
WELL Health-Safety Rating certification requires long-term processes from owners and managers, constant inspection, and improvement of the assets, as it expires after one year, and the property is validated again.
"The renewal of the Well Health-Safety Rating certification is the result of our perseverance and commitment to excellence. It also signifies that our investments in infrastructure, sanitation, hygiene systems, and preventive measures in recent years have been pertinent and effective and that the quality of management is at the highest level. Buildings from PRO Portfolio are distinguished by their quality, aesthetic design, excellent functionality, and effective ESG strategy. We can see that tenants appreciate it, which is proven by the high commercialization level of the office buildings", says Angus Wade, Sharow Capital.
The office buildings Diamentum Office, Okrąglak and Kwadraciak, Forum 76, and Opera Office are managed by MVGM, while Vinci Office Center is managed by Dyskret Polska, which carried out the certification process for Vinci.
Diamentum Office is an A-class office building that offers 9,000 sqm of space spread over eight floors. It is located on Przemysłowa Street, close to Wroclłw Industrial Park, which provides the building's tenants with fast communication with the rest of the city.
Okrąglak and Kwadraciak are office buildings located in the very center of Poznań. Okrąglak was built in 1955 and underwent extensive modernization in 2012, thanks to which it now offers 7,000 sqm of modern lease space, 800 sqm of which is occupied by a retail zone. Next to it - located next door - is Kwadraciak, a Class A building that provides 950 sqm of office and retail space.
Forum 76, located at the corner of Piłsudskiego and Kopcińskiego Streets in Łódź, is a seven-story office building offering a total of about 8,000 sqm of modern space. The building was one of the first Class A office buildings in Łódź.
Opera Office is an office building located near the center of Gdańsk, on the main thoroughfare of Tricity - Zwycięstwa Avenue. The building, with a total leasable area of 8,300 sqm, is distinguished by the high quality of finishing of common areas and modern technological solutions.
Vinci Office Center, the largest building in the PRO portfolio, offers 20,000 sqm of offices on fourteen floors. The office building is distinguished by its location - on the main thoroughfares of the city of Krakow, near the intersection of national roads 7 and 79. The drive to the city centre takes no more than 10 minutes and to the Krakow-Balice airport about 20 minutes.
source:property-forum.eu