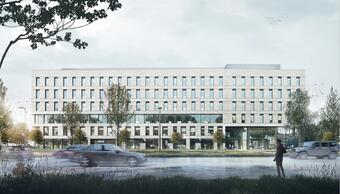 Krakowska 35 is an office property under development in the dynamically growing southern part of Wroclaw. Located along Krakowska Street, it offers easy access to the city center and the central bypass. Having in mind the comfort of tenants' work, a number of amenities is planned for them: adequate sunlighting of the office space, showers and changing rooms for cyclists. The property will be BREEAM certified.
'We are an established developer who wants to fully use the potential of our investment land. That is why we have decided to expand into the office sector and start our partnership with Knight Frank, an experienced property agent on the market. We are convinced that thanks to our collaboration our Wroclaw property will soon find its tenants and the professional entity will guarantee the highest level of service.' – said Angelika Kliś, Sales & Marketing Managing Director, ATAL.
'We are pleased that ATAL SA entrusted us with the commercialization and management this property. At first, we will focus on finding the tenants efficiently. Taking into account the location and benefits, we believe that companies which consider relocation will eagerly choose the new office property. This solution makes it easier to attract tenants and convince new companies to lease a space in this property. We are looking forward to a fruitful collaboration both with the owner and future tenants.' – said Anna Patrzyk-Sperzyńska, Leasing Manager, Knight Frank.
Source: Knight Frank