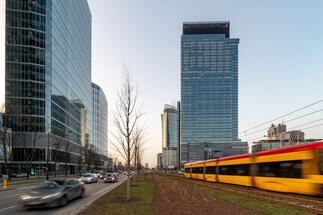 After 2020 full of challenges for everyone, we entered this year full of optimism. When everyone was thinking about the future of the office market, we consciously launched two more investments: The Bridge in Warsaw and Craft in Katowice. In addition, we have started new housing projects. The greatest success was the commissioning of the Warsaw Unit packed with innovative solutions. The sale of Wołoska 24 is the icing on the cake - summarizes the year 2021 Jeroen van der Toolen, managing director for Central and Eastern Europe at Ghelamco.
In one of the last weeks of the year, Warsaw Unit received the BREEAM certificate with the Outstanding level. The building also has the Green Building Standard certificate, and a little earlier it received precertification in the latest WELL v2 Core system. The building is also in the process of obtaining a WELL Health-Safety Rating and the title of Object without barriers. Warsaw UNIT offers 57 thousand. sq m office space on 45 floors. Signal OS, the proprietary operating system of Ghelamco, as well as innovative anti-pandemic solutions have been implemented in the building. Skyfall Warsaw has been opened on the 46th floor of the Warsaw Unit building. The heart of the place is the almost 200-meter-high platform with a glass floor that leans out of the building by 15 degrees. Its abrasion will take place in the spring of 2022.
At the end of 2020, the company announced the start of the Kreo investment in Krakow, and this year the construction of the Warsaw skyscraper The Bridge and the Craft office building in Katowice were announced.
The Bridge is 47 thousand. sqm, 174 meters and 40 floors, a skyscraper that will be erected next to the former seat of the Bellona publishing house and will be connected to it. It will be certified in the WELL, BREEAM and Green Building Standard systems as well as in the building without barriers. The construction is expected to be completed by the end of 2024.
Craft will offer 26.7 thousand. sq m office space. It will have 13 floors and 55 meters in height, and a two-story underground car park will accommodate 218 vehicles. An additional 28 spaces are planned in the above-ground car park. The office building will be located at the intersection of ul. Chorzowska and Ściegiennego, next to the Silesia City Center shopping mall. The office building is to be ready by the end of 2022.
Ghelamco also focused on housing projects in 2021. The developer has practically sold out the apartments in the Foksal 13/15 tenement houses and the Flisac apartment building. In addition, almost 100 percent was sold out. single-family houses in the first stage of the Groen investment in Konstancin. The next stages are under construction. The company has also started building a new housing estate in Piaseczno.