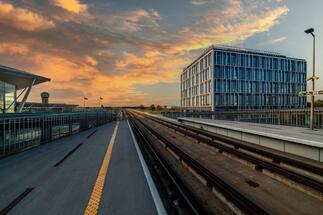 Alpha is a newly built facility as part of Airport City Gdańsk, a commercial investment at the Gdańsk airport. Alpha is the first of seven planned office and service buildings to create a business district at the airport. Airport City Gdańsk is the first such commercial investment in Poland.
(...) This permit officially confirms the proper construction of the building by the general contractor, Hochtief Polska SA. Taking into account the professionalism and fantastic cooperation with the contractor, we were aware that with such a quality of building construction, obtaining an occupancy permit would be a pure formality. However, the LEED Gold certificate obtained just now confirms the highest standard of the building in terms of the technologies used, among others water and energy-saving, as well as optimization of construction processes aimed at creating an environmentally friendly facility - said Michał Dargacz, Director of Airport City Gdańsk.
Appropriate building materials were used among the pro-ecological solutions in the Alpha office building. The facility has a BMS control system that allows to reduce energy consumption. Energy-saving LED luminaires were used in the building and outside. Air handling units with F7 filters and high heat recovery efficiency were installed. In the sanitary rooms, devices with Energystar type environmental certificates (low power consumption) and low water consumption were used. On the plot on which the office building stands, water retention is carried out through the use of filtration troughs and retention tanks. In addition, rainwater will be recovered for watering the greenery. Around the building, bright paving slabs, wooden elements, varied vegetation and a green roof are used, which reduces the heat island effect. There is a bicycle infrastructure around and inside the building, including parking spaces near the entrance to the facility. There are also parking spaces for electric cars and car-sharing. The building has a glass facade and an optimal floor layout, which will ensure access to daylight and will have a positive effect on the comfort of work and well-being of users.
The office building has six floors and two underground levels. It offers 197 parking spaces. Alpha will have offices, a food and service zone, and ultimately a sports and recreation zone in the immediate vicinity.