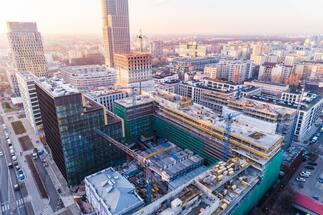 In 2019, 30 construction sites recorded 15 accidents and 19 incidents which resulted in 283 working days lost at construction sites.
"Currently, the most important for us is that construction sites are not afraid to report accidents at work and we are able to analyze all of them and draw conclusions. Due to monthly and quarterly reports that we receive, we can more effectively monitor how the EHS management system operates", says Dariusz Nowak, the EHS director at Echo Investment. He also adds: "For our strategy it is essential to report serious incidents, i.e. near miss, so we can analyze them, recognize causes and bring in a recovery plan before another accident occurs at work."
Echo Investment recorded one accident at work less in 2019 compared to the previous year, which decreased the accident rate per million worked hours from 1.92 to 1.83. In the coming year, the developer will carry on and develop EHS actions at construction sites, including elaborating a risk assessment system at the design phase in cooperation with architects and designers, as well as trainings with employees.
"Trainings are a key element of accident prevention. We regularly carry out SMSTS and SOT awareness trainings as well as specialised trainings on, among others work at height, vertical transport or fire-hazardous work. As a EHS team, we have internally trained all Echo Investment employees and the majority of our contractors' supervision personnel", sums up Dariusz Nowak.
EHS reviews are another key element of prevention. The Management Board of Echo Investment and its senior management are involved in ESSV visits. Peer Review visits are carried out by construction site supervisors together with contractors. In total, 765 Peer Review and 228 ESSV visits were held at Echo Investment's construction sites in 2019.
Echo Investment also continues its strategy on implementing new marking standards at construction sites. In 2019, the developer introduced, among others standards for scaffold tags so-called scafftags. A new standard for marking electrical equipment has also been introduced, that facilitates to assess visually that quarterly reviews are valid.
To raise and build a positive safety culture, a system of rewards for employees for safe attitudes was introduced at Echo Investment projects in 2019.
The EHS management system is subject to internal audits on an ongoing basis – in total 18 audits took place last year, they all checked compliance with ISO 14001 and OHSAS 18001. In 2020, Echo plans to move to the new ISO 45001 standard. Echo Investment's actions to maintain high OHS standards have been recognized by the National Labour Inspectorate by awarding a commendation to the company as a demanding client in terms of health and safety.
Source: Echo Investment