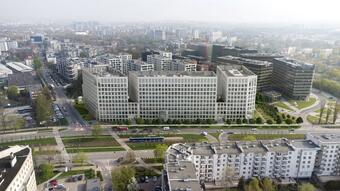 The new Medicover medical center will start operating in the Brain Park office complex in October 2023. It will be the largest facility in the company's Krakow portfolio.
In Krakow, we see a growing demand for high-quality health and wellbeing services. Therefore, we want to increase access to our offer and plan to inaugurate a large, modern center - comments Adriana Gniadek-Mikołajczyk, Regional Operations Director, Medicover in Poland.
The opening of the Medicover medical center in the Brain Park office complex is a response to the changing expectations of our tenants. The availability of specialists who will take care of employees' health is a valuable convenience - emphasizes Wojciech Mazur, senior leasing manager in the commercial projects department of Echo Investment.
The Brain Park office complex is being built at the intersection of Aleja Pokoju and ul. Fabryczna in Krakow. The entire investment involves three 10-storey buildings with a two-level underground garage, with a total area of ​​nearly 43,000 sq m. sqm The patio will be a distinctive asset of the investment. There will be plenty of greenery, places to rest, integration and a zone for games and activities.
The investment is carried out in accordance with the new safe Echo Pure Office standard. The developer will install here, among others RCI Active Pure air purification technology.