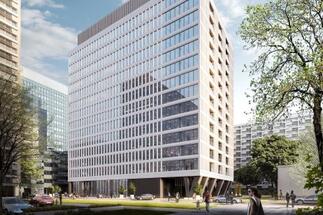 The Atrium 2 office scheme will comprise 15 floors above ground and four below as well as 125 parking bays. The new tenant will occupy the three highest floors in the building – one fifth of the project's overall leasable space of 20,000 sqm. The law firm will relocate to its new location in May 2016. The company's office will be designed in a modern style in accordance with Activity Based Workplace principles.
DLA Piper is a global law firm with lawyers located in more than 30 countries throughout the Americas, Asia Pacific, Europe and the Middle East, positioning us to help companies with their legal needs anywhere in the world. DLA Piper's office in Warsaw provides high quality legal and tax services to international corporations and financial institutions as well as local entrepreneurs operating in various industry sectors.
"We started searching for new office space with a focus on the comfort of our clients, and the needs of our employees, keeping in mind the planned growth of the team in Poland. We selected the Atrium 2 office building because the investment's character meets the requirements of DLA Piper in terms of applied pro-ecological solutions, including LEED certification, and innovative technological installations that enable us to provide high quality services for our clients. Furthermore, Skanska's principles applied during the development of the company's schemes – a focus on the environment and local communities as well as the meticulous attention to detail regarding the needs of both clients and employees – was a significant factor in DLA Piper's decision to relocate to Atrium 2," underlines Krzysztof Wiater, Country Managing Partner of DLA Piper's Warsaw office.
"Since the beginning of our negotiations we knew that DLA Piper was searching not only for a new location in the center of Warsaw but also a partner for conducting joint business strategies. We feel honored that DLA Piper has selected Atrium 2 for its new office and that this new location will be a launching pad for the company's further development in Poland. We want to provide the Warsaw market with only high class, LEED certified projects with timeless architecture that offers flexible space and convenient development for our tenants in one location. Atrium 2 is one such project," says Arkadiusz Rudzki, Leasing & Asset Director at Skanska Property Poland.
International advisory firm CBRE advised the tenant on the selection process.                                                   
Atrium 2 is being developed in Warsaw's business center, in close proximity to the new metro line and only a few minute's walk from Dworzec Centralny rail station. The building is developed in accordance with Workplaces by Skanska principles based on green solutions which will be underpinned by LEED Platinum certification. PRC Architekci studio is responsible for its architectural design. The building's general contractor is Skanska S.A. while Skanska Property Poland is responsible for its commercialization.