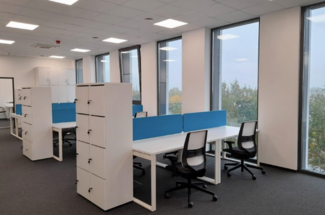 "When choosing an office for the seat of our branch, we were primarily guided by the good of our employees" - says Mariusz Płaziński, Board Representative, Regional Director - "The roots of our company are in Sweden. Securitas was founded there as a family company and values ​​such as employee welfare, culture and work ethic are the values ​​on which our functioning is based. Therefore, we wanted our employees to be able to work in a comfortable space, so that they could easily and quickly get to work by car or public transport. The great advantage of DL Piano, which we also paid attention to, is the rich commercial and service offer available in the same building, thanks to which our employees can do basic shopping, which is extremely important in the current situation, when restrictions on moving around the city are recommended " - adds Mariusz Płaziński.
"In our projects, we pay special attention to making office spaces comfortable and user-friendly" - says Aneta Kulik from DL Invest Group - "Our understanding of comfort in the workplace is not limited only to the space in the building, but to the entire accompanying infrastructure. . Our office facilities include shops, kindergartens, gyms, cafes and restaurants. Thanks to this, employees can save time by meeting their daily needs in the workplace, "emphasizes Aneta Kulik.
This extensive commercial, service and gastronomic offer build the value of our projects and a friendly internal environment, as well as the comfort of work and life for users. As a result of a carefully prepared commercialization concept and as part of building a diverse and complementary offer, our buildings provide access to numerous shops, restaurants, service points, kindergartens and fitness clubs, allowing employees, their families and local communities to meet almost all shopping needs in one place . The locations of our buildings, well-connected by many means of transport, also provide easy access to offices, financial institutions and bus and train stations, which also helps to better organize the day - says Dominik Leszczyński, CEO of DL Invest Group.
DL Piano is one of the five office buildings currently included in the DL Invest Group portfolio. The company's office projects are located in Katowice, Gliwice and Częstochowa. Additionally, DL Prime is under construction, the only modern office campus in Gliwice with an area exceeding 19,000 sq m. and DL Tower, an office building under construction in Katowice, which will provide nearly 17,000 sq m to the Silesian market. modern office space. The commissioning of DL Prime is planned for the third quarter of 2022, and the DL Tower for the fourth quarter of 2021.