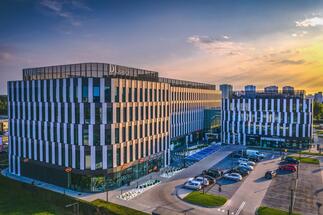 DL Piano is a mixed-use complex offering, apart from office space, commercial, service, gastronomic and recreational functions. In December 2021, the building received the BREEAM In Use certificate at the Excellent level. Further plans of DL Invest are also already known.
In the coming months, the construction of the next stage of our investment - DL Piano II - starts. The facility will be erected next to the existing property, and its commissioning will take approximately 20 months. At the same time, the construction and commercialization of our other office building in Katowice - DL Tower, which is being built at Aleja Korfantego, is coming to an end. It will provide the market with 17,000 sq m commercial space. This building will also be certified in the BREEAM system - says Dominik Leszczyński, CEO of DL Invest Group.
All new investments carried out by DL Invest Group are created in accordance with the assumptions of the pro-ecological DL Green policy. The company's real estate portfolio includes three segments: logistics, office and commercial centers with a total area of ​​2 million sq m.