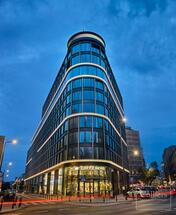 Global real estate services firm Cushman & Wakefield has been managing Astoria Premium Offices in Warsaw since the beginning of September 2019.
Astoria Premium Offices is a building offering nearly 18,500 sq m of office space and approximately 1,000 sq m of retail space in the very heart of Warsaw. It is located at 2 Przeskok Street, in the Śródmieście district. The building has received the LEED certificate with a Platinum rating.
"The Astoria Premium Offices building boasts a sophisticated design with all the advantages of an unrivalled downtown location and one of the most desirable and iconic addresses in the centre of Warsaw. Its tenants include reputable Polish and international companies," said Grzegorz Dyląg, Head of Business Space, Asset Services, Cushman & Wakefield.
Source: Cushman & Wakefield