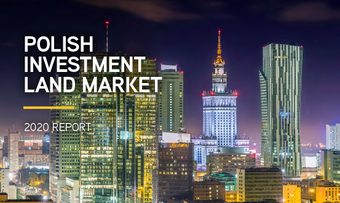 The spectacular investments and record-breaking purchase prices that we have witnessed indicate that the past year can again be counted as extremely successful. In 2019, Colliers International's Land Department participated in several key land transactions throughout Poland, both in the residential and commercial markets, and their total volume exceeded PLN 700 million, says Emil Domeracki, director of the Land department at Colliers International.
Private investors drive the market
Land plots located in Warsaw, Kraków and Wrocław are still of a great interest among developers. However, the Poznań market saw a record high supply of new apartments last year.
According to Colliers International experts, buying for investment purposes is becoming a significant factor in the demand for residential space. Due to persistently low interest rates and favourable credit conditions, private individuals are increasingly seeing real estate as a safe place to invest capital. This drives demand from developers for attractively located land, which is becoming scarce.
An upward trend is still visible in land prices for housing investments, breaking the level of PLN 3–3500 per square metre PUM. With such a head-spinning rise in price levels and the low supply of attractive land, investors are ready for a costly and lengthy administrative process to secure locations close to the city centre. Developers are increasingly looking at more complex solutions, such as post-industrial revitalisation, change of use of service areas or investing in alternative forms of housing, notes Emil Domeracki.
Regions are surpassing the capital in building offices
In 2019, the increase in demand for office space in Warsaw and the largest Polish cities led to a decrease in the vacancy rate in most of these markets. All regional cities have a large number of projects under construction and at the planning stage, and the pace of development exceeds even the capital. Central locations and adaptations of existing buildings into boutique offices are still popular among developers.
As expected by Colliers analysts and advisors, the trend to change offices into collective housing (condo- and aparthotels, as well as flats for rent, dorms and traditional hotels) also strengthened last year.
The increase in the popularity of modern dormitories in Poland as an investment product is the result of the numerous European and worldwide student exchange programs. Domestic students are much more likely to use the option of renting apartments from private individuals or older dorms of a lower standard and rents, says Krzysztof Chyla, transaction coordinator at the Land department at Colliers International.
Commercial and warehouse sector unchanged
The retail market in Poland has already reached a state of stable saturation with retail space in large and medium-sized regional cities. Most of the facilities that opened last year were built using land banks and on land secured in previous years.
"Due to legal restrictions and the saturation of retail space in the country, as well as the development of e-commerce, the construction of classic shopping centres is gradually giving way to modern facilities or mixed-use facilities," explains Emil Domeracki.
In the warehouse sector, developers' decisions are primarily shaped by access to employees and logistics infrastructure. The growing importance of Poland on the European logistics market and the development of the e-commerce market were reflected in the tenants' activity. However, from the perspective of the investment land market, the year 2019 did not bring any drastic changes in prices or preferred locations.
Predictions for 2020
According to Colliers experts, in the coming year we will still observe a gradual slowdown in the pace of land price increases. Due to significant demand and favourable macroeconomic conditions, the market will still be dominated by the housing sector, and new strategies adopted in 2019 by developers will become more common.
Industrial and post-industrial areas located in large cities will continue to be transformed into residential and commercial buildings. A similar fate awaits aging office buildings from the beginning of the century. Apartments for rent and modern dormitories will gain importance both as a method of using unfavourable planning records and as investment products.
Purchases of commercial land will be focused around filling retail gaps in medium and small cities. No drop in prices is expected, but the number of transactions will remain low.
Source: Colliers