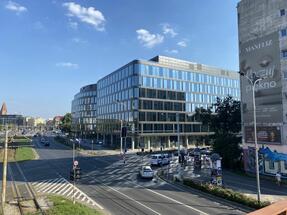 e are more than happy that another new technology company has joined Infinity's tenant roster. Excellent location in the very heart of Wrocław, convenient and quick access by various means of transport, the top-notch quality of space and the presence of ESG features are the key assets sought by dynamically growing IT organizations. Infinity, offering a state-of-the-art work environment, is the perfect answer to these needs. I am confident that Avenga's team will be keen on the space offered by our building, and the comfort will support the company in growing business," said Mariusz Frąckiewicz, Director of Poland at Avestus Real Estate.
Avenga's new office will be arranged on over 700 sqm. of space located on the 6th floor of Infinity. During the negotiation process, the tenant was advised by Colliers Poland, and the landlord by JLL. The office space will be handed over in Q2 2024.
"In Avenga, we do care about the space for working, holding meetings or organising training sessions. Our goal is to make each employee and associate feel comfortable about coming to the office, even if they usually work remotely. We need a modern space flexible enough to be adjusted to the individual needs and wishes of the people working in the office. The Infinity office building satisfies all our expectations in terms of the overall atmosphere, comfort and safety of work," added Anna Szyperek, Co-Managing Director of Avenga in Poland.
Infinity is a seven-storey class A office building offering, among other things, 18,727 sqm of office space, 1,561 sqm of service and retail space, and a three-level underground car park with 311 parking spaces. With cyclists in mind, 128 bicycle stands will be fitted in an enclosed area provided with changing rooms and showers. The building, delivered by Avestus Real Estate in cooperation with its business partner Alchemy Properties, is BREEAM-certified at the Excellent level, and WELL Health-Safety certified, which confirms the high standard of safety procedures.
source:europaproperty.com