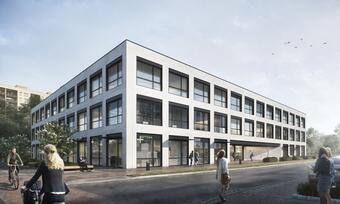 Urbi Ferro is a multifunctional facility with a leasable area of ​​more than 6,000 sq m. sq m It will be both the first project under construction under the Fabryka Program and the first A-class office building in Stalowa Wola. The partners of this investment are the ARP Operator from the Industrial Development Agency group and the City of Stalowa Wola, which has indicated the area for the implementation of the project.
On January 17, at the construction site in the area of ​​ul. Okulickiego and Floriańska, the foundation act was laid for the Urbi Ferro office building. The three-storey building will offer not only office space on the floors, but also commercial and service premises on the ground floor. Additionally, as part of the investment, 133 parking spaces will be created in the underground garage and on the ground, together with electric car charging stations.
We are making our debut in Stalowa Wola. The first construction under the Factory Program starts right here, in a city with a strong industrial tradition dating back to the beginnings of the Central Industrial District. Today, Stalowa Wola is a city looking to the future and focusing on development, as well as a significant location on the map of south-eastern Poland - argues Mariusz Domeradzki, president of the ARP Operator.
The design of the office building was prepared by the Krakow-based URBA Architects studio.
Stalowa Wola is one of the first cities to join the Fabryka Program .