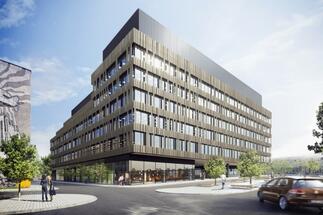 Projekt Nowa Fabryczna składać się będzie z siedmiu kondygnacji naziemnych oraz dwóch podziemnych, z 210 miejscami parkingowymi dla najemców. Obecnie na terenie inwestycji realizowane są prace przygotowawcze do rozpoczęcia budowy. Budynek zaprojektowany został na potrzeby ok. 2200 pracowników.
Nazwa projektu bezpośrednio nawiązuje do charakteru miasta oraz jego lokalizacji. Budynek Nowa Fabryczna powstanie w odległości kilku minut drogi pieszo od Dworca Fabrycznego, który – po ukończeniu remontu – stanie się jednym z najnowocześniejszych ośrodków komunikacyjnych w Polsce. Biurowiec stanie się ważną częścią biznesową Nowego Centrum Łodzi – jednego z najbardziej spektakularnych projektów miastotwórczych realizowanych w Europie Środkowej, który łączy biznes, handel, kulturę oraz transport.
"Łódź bardzo dynamicznie się rozwija, o czym świadczą liczne realizowane inwestycje. Miasto wyróżnia szereg cech, które sprawiają, że jest atrakcyjnym miejscem z wciąż niezagospodarowanym potencjałem. Wśród przewag Łodzi można wymienić lokalizację w ścisłym centrum Polski oraz fakt, że jest jednym z najważniejszych ośrodków akademickich w Polsce. Istotne są również duże projekty komunikacyjne oraz inwestycje realizowane w mieście, takie jak budowa Nowego Centrum Łodzi, Dworca Fabrycznego czy trasy W-Z. To wszystko sprawia, że zdecydowaliśmy się zrealizować tu dwa kolejne projekty. Pierwszym z nich będzie Nowa Fabryczna", komentuje Łukasz Kaleciński, dyrektor regionalny w Skanska Property Poland.
Budynek Nowa Fabryczna zostanie zrealizowany zgodnie z ideą zrównoważonego budownictwa, o czym świadczyć będą rozwiązania zastosowane w budynku. Użytkownicy będą mieli do dyspozycji m.in. nowoczesną infrastrukturę rowerową, w tym punkt roweru miejskiego oraz stacje do ładowania pojazdów elektrycznych. Technologie zastosowane w budynku pozwolą znacząco zmniejszyć zużycie energii oraz wody. Zielony charakter budynku potwierdzi międzynarodowy certyfikat środowiskowy LEED na poziomie Gold.
Nowa Fabryczna to już drugi obiekt biurowy Skanska Property Poland realizowany w Łodzi. Premierowy – Green Horizon – powstał w okolicy Ronda Solidarności. W trzecim kwartale 2014 roku kompleks został sprzedany funduszowi Griffin Real Estate. Sukces tej inwestycji sprawił, że Skanska Property Poland zdecydowała o realizacji kolejnego projektu. W czerwcu bieżącego roku Skanska kupiła także działkę pod budowę Bramy Miasta – flagowej inwestycji Nowego Centrum Łodzi.
Autorem projektu architektonicznego budynku Nowa Fabryczna jest śląska pracownia medusa group. Generalnym wykonawcą budynku będzie firma Skanska S.A. Komercjalizację obiektu przeprowadzi Skanska Property Poland.