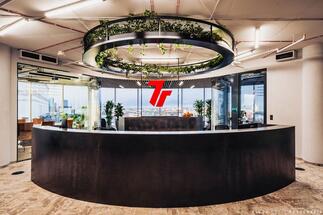 The last years for 7R have been a time of very dynamic growth. Since 2019, we have doubled the number of employees to better meet the needs of our clients and provide them with high-class space to carry out strategic business operations. Such a dynamic growth entails the need to expand the office in Warsaw - comments Tomasz Lubowiecki, founder and president of the board of 7R.
The new office, arranged in accordance with the tenant's requirements by Tétris, is a combination of open space with intimate meeting rooms and rooms.
Metropolitan is a class A office building, designed by the architect, Lord Norman Foster. It was Foster's first project in Poland. The office building is located in Warsaw, at Marszałka Józefa Piłsudski Square, in the vicinity of, among others, Saski Garden and the National Theater. Metropolitan offers 33.6 thousand. sq m office space and 3.3 thousand. sq m commercial and service.