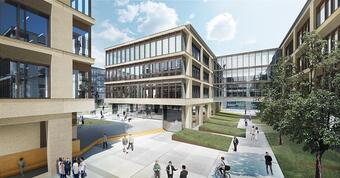 Waterfront is a multifunctional complex that is being built within the following streets: Waszyngtona, Hryniewickiego and Jana Pawła II, in the immediate vicinity of Skwer Kościuszki and Sea Towers in Gdynia.
Roger Anderson, Managing Director, Vastint Poland says, " We are extremely satisfied about having received this permit. This is an important project to achieve the master strategy to develop the waterfront and restore this area for the residents of the city. The design created by JEMS architectural studio was prepared very carefully with the future users in mind. The main goal was to create an attractive place that will be open not only to people who work and live here, but also for all residents of the city and tourists visiting Gdynia. Our ambition is for the Waterfront to become the new heart of the city: a favourite place to meet, work and live. "
The planned investment is a continuation of the first stage of Waterfront opened in 2015, which comprises two buildings: an office and a hotel at the President's Riverfront. The existing buildings will be completed with an additional 80,000 m2 of mix-use space. In the area of ​​four hectares, residential and office buildings will be built first, followed by an office building, service area, a hotel with conference space as well as public and cultural facilities, including a cinema. An important element of the concept is the public square bordering with Skwer Kosciuszki, around which public life will take place. The whole will be complemented by urban greenery, which will give a seaside character and distinct the functional zones of the planned project.
Janusz Tybuszewski, Project Manager, Vastint Poland says, "Due to the scale of the planned project, its implementation will be phased. We will start with the development of the plot from the side of Hryniewickiego Street, while maintaining the passage to the Marriott hotel from Jana Pawła II Street. A few months' procedure for selecting a general contractor is ahead of us. It is likely that construction works will start in spring of the next year. Implementation of buildings
on Kościuszki Square will take off with a one-year delay. We are currently working on the architectural design of this part of the complex. "
Source: Vastint Poland