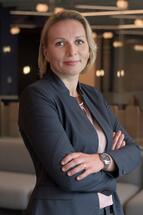 The Wrocław agglomeration is one of the fastest developing urban areas in Poland. Its attractive geographical location ensuring investors close proximity to the German and Czech markets, good infrastructure and access to qualified employees mean that the Wrocław market is witnessing a high level of activity among both developers and tenants.
In 2019, the demand for office space in Wrocław amounted to almost 123,500 sq m. Such a high result is the effect of stable interest in office projects under construction, which has led to a large number of pre-let contracts in buildings that will not be put into use until 2020. A large proportion of these tenants was advised by experts from our regional office. Last year, we represented a total of 25 tenants in the lease of 36,800 sq m, which gives us a 30% share in the local market in transactions with advisors and a leading position among agencies, says Dorota Kościelniak, regional director of Colliers International in Wrocław.
The successes of the Colliers International office in Wrocław include: the commercialisation of the A and B buildings of the Cu Office complex, which SoftServe, Domodi and TotalMoney moved into, occupying a total of over 15,000 sq m from the 23,000 sq m in both phases of the complex; the commercialisation of the Silver Tower Center through finalising the renegotiations of lease agreements by Toyota Europe and Luxoft Poland; and the takeover of another Skanska office building – Nowy Targ, with 19,400 sq m of office space.
Wroclaw business hubs are growing
In the coming year, the city's business centre will be expanded to include the southern area, where new office projects are being created, for example Centrum Południe built by Skanska and Mid Point 71 by Echo Investment.
Both investments are being built along Powstańców Śląskich street, one of the key arteries of Wrocław. Due to the attractive location and convenient communication, further projects in this area are only a matter of time, says Dorota Kościelniak.
Other office locations in the south-east of the city along Krakowska street are very popular. This is due to the area's revitalisation in both residential and office construction.
The strict city centre is completed by the construction of the Brama Oławska (Tower Inwestycje) and Infinity (Avestus) office buildings. The western part of the city continues to maintain its strong position.
Rents are stable, there will be more vacancy rates
At the end of 2019, the vacancy rate in Wrocław was 12.5% ​​due to the provision of a relatively large amount of office space for use in the last quarter – over 87,000 sq m. In the coming year, Colliers experts forecast a slow absorption of undeveloped office space and the stabilisation of the vacancy rate. Rents will remain unchanged. Tenants in modern A-class projects will have to pay between EUR 13.5 and 15.5 sq m/month, while in older buildings the rates are EUR 8-12.5 sq m/month.
Developers are focusing on flex offices
Wrocław is a city in which not only large corporations can develop, but also smaller companies. A visible trend is the development of R&D companies, which are gradually starting to leave incubators, technology parks and offices in tenement houses, and moving to locations that are beneficial for them, such as coworking spaces or serviced offices.
We are constantly recording an increase in interest in space in serviced and coworking offices in Wrocław. The most popular are centres which, apart from providing functional spaces, also focus on creating communities. The key advantages of these spaces are undoubtedly flexible rental periods length and the ability to freely increase or reduce the amount of space rented. Flex offices are a great alternative for tenants waiting for their destination office and for companies at an initial stage of development that find it difficult to estimate how quickly their business will grow, says Mateusz Cieślik, senior associate from Colliers International office in Wrocław.
Forecasts for 2020 point to an increase in hotel investments, both in terms of restoration of old palaces and construction of new facilities. The importance of aparthotels, condo hotels, starters, i.e. flats with an area of several square metres, and private dormitories is growing – especially after the announcement that Coventry University from the UK is set to open a branch in Wrocław in 2020.
Srouce: Colliers International: