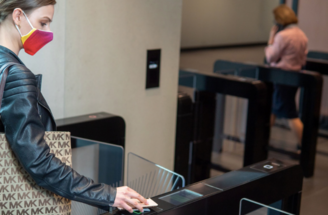 - Long before the pandemic, we provided the users of our buildings with healthy, stimulating spaces in which they can develop and achieve their goals. This safe microworld where people feel good and work efficiently is now even more important. More by HB Reavis is an element of our Workplace-as-a-Service strategy, which supports the building community and is of great importance in efforts to return office buildings to normal operation - says Piotr Brzostek, Country Property Lead at HB Reavis.
The More by HB Reavis mobile application is at the disposal of tenants of the Varso 1 and 2 multi-functional buildings in the center of Warsaw, and soon also the Varso Tower and the Forest office campus. It is an intuitive, handy source of information about the amenities available on site and a virtual access card that makes it easy to navigate around the common areas and use the parking lot: find and book a place, share it with colleagues or pay for guests.
After a simple registration, the user of the More by HB Reavis application will find there special offers for dining and service establishments, an overview of events taking place in the building, as well as a concierge service. Employees can thus order, for example, laundry, car washing, minor repairs or courier deliveries. Safe payment for such services is ensured by trusted payment platform providers.
Office buildings are still alive
The tenants of HB Reavis buildings could always count on a rich calendar of events tailored to the preferences of employees: from culinary and healthy lifestyle events, through vernissages, concerts and film screenings, to important social initiatives. Despite the pandemic challenges, the management team did not give up on this type of action.
- Despite the difficulties caused by limited interaction and the need to keep distance, we organize events in a non-contact form. In one of the buildings until recently owned by HB Reavis, together with the tenant, we collected electro-waste and distributed a thousand seedlings on the occasion of the World Tree Day. We are also constantly developing the activity program for Varso Place employees - says Magdalena Stelmaszczyk, Event Manager at HB Reavis.
Employees of companies operating in Varso Place in autumn and winter could, among others, discover the history of this part of Warsaw during a guided walk, admire art exhibitions in the building's lobby, and even present your artistic achievements yourself. Additionally, a number of online events were organized, including workshops on creating forests in a jar and scented candles, as well as activities on a healthy spine.