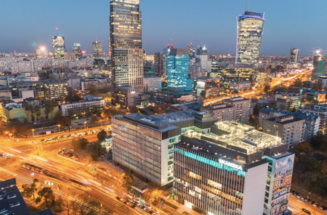 This is the second phase of the Spark office complex located in the Wola district of Warsaw. The sold property was completed in the first quarter of 2019. It already has LEED Platinium and Barrier-free Building certificates. In addition, it is also expected to receive WELL Core & Shell (Gold) certification and be accepted for the WELL Health-Safety Rating.
The building has about 19 thousand. square meters, 85 percent of which is leased to tenants, incl. UPC Polska, the PCF Group, PKO Faktoring and INC Research (Syneos).
Stena Fastigheter is one of Sweden's largest private real estate companies with 26,000 sq m. homes and 1,250 commercial properties in the Swedish metropolitan area. Internationally, operations are led by Stena Realty.
Stena Realty operates in the Netherlands, France, Great Britain, Germany, Hungary and the USA. According to Skanska, the buyer is one of the largest Swedish real estate funds. This is the first purchase in Central and Eastern Europe for the Swedish investor.
- In these uncertain times, trust and partnership are valuable capital. We are very pleased that Stena enters the Central and Eastern European market by concluding a transaction with such a long-term partner as Skanska - emphasizes Arkadiusz Rudzki, Vice President for Leasing and Sales at Skanska's office company in Central and Eastern Europe. –Our constant goal is to provide safe, timeless, healthy, sustainable and innovative jobs. And so is the Spark office complex. This is the second office building in Warsaw that we have sold this year. The first was Generation Park Z, sold in March to Deka Immobilien. The second half of the year showed a revival on the market and an increase in interest in the best office projects. I believe that quality and safety are now the most important for tenants and investors. Skanska proves that it can provide both - adds Arkadiusz Rudzki.
- The transaction, the subject of which is the Spark B office building - an innovative and sustainable building, located in the fastest growing business and office district in Warsaw - is of particular importance to us. For a long time, we have been looking for an opportunity to enter the Polish, and at the same time, the Warsaw real estate market. Spark B fits perfectly in this case as a modern, timeless, LEED Platinum certified office building built in accordance with WELL Gold standards - said Cecilia Fasth, president of Stena Fastigheter AB.