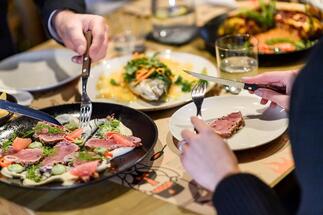 The Meeting and Flavours District, that is arising in Warsaw Brewery, will fill the whole urban quarter with original restaurants, cozy cafes and service points. Such a spot will be the Pjaca restaurant, that will be opened in the office building of Villahouse Offices by the creators of a popular and often visited called that Munja restaurant. 'Pjaca' in Serbian means "market". So the best qualities of a market - sophisticated and always fresh products, lavish cuisine, relaxed atmosphere as well as events that engage you and invite you to spend time together - will be the distinguishing feature of this place.
- Pjaca is the freshest idea for a delicious and surprising Adriatic cuisine that will be developed in Warsaw Brewery by popular restaurateurs from Grzybowska street. While completing our culinary proposal for such a unique project as Warsaw Brewery, we wanted to create a stirring blend of flavours. We have known the owners of the Pjaca restaurant for a long time. Their passion, the extraordinary art to combine flavours and Balkan hospitality will make the spots developed by them always full of satisfied guests. It will be the same with the Pjaca restaurant that will soon be present in Warsaw Brewery - says Karolina Prędota-Krystek, Senior Leasing Manager at Echo Investment, responsible for lease agreement negotiations.
Restauranteurs of Warsaw Brewery will bring a multicoloured culinary tradition of southern Europe closer to Warsaw residents and guests. The Pjaca restaurant is a family place where not only blood ties but also amazing friendships will count, and these are enhanced during a good meal. The creators of this place follow this philosophy.
- We will serve the best Balkan delicacies to give our guests a chance to experience the real Balkans. We want them to feel as they were at every home in Montenegro – wined and dined, so they will leave our place with a smile on their face. We want to give people joy, smile and fun times. And above all, we want them to come back to us, because we love to host our guests - says Predrag "Peko" Djurović, General Manager of the Pjaca restaurant.
Southern Europe flavours
The Adriatic cuisine served by Pjaca is a unique blend of flavours. The menu will be full of traditional dishes for Montenegrin, Serbian or Croatian cuisines, but also typical Italian meals - pasta or pizza. The symbol of the restaurant is the flame, that is why you can find a real charcoal-fired grill in the restaurant. In this way, dishes are prepared in the Balkans, thanks to original tastes and aromas of products can be extracted in the most natural way, and meat and fish can look perfect and be deliciously succulent.
- Our culinary proposal is related to the countries on the Adriatic Sea. We draw from both the Balkans and Italy. The menu includes such dishes as pljeskavica, cievapi or stuffed squids, that are characteristic for Montenegro and Serbia. We use such products as kajmak or prsut ham and these specialties will certainly be present in Pjaca - says Łukasz Piotrowski, Chef of the Pjaca restaurant.
The open kitchen will give you a chance to choose fresh fish and seafood from a display case filled with crushed ice. Dogfish, blue whiting, tuna, turbot, oysters, shrimps and squids - all this will wait for you every day.
Meeting place
Pjaca will be not only an excellent restaurant, but also a place where everyone will feel at home. Interesting culinary events inspired by cuisines from different regions of the world will wait for guests of the restaurant. Meetings with chefs from Japan or South America will enrich the culinary proposal of this place. One thing is for sure - you will not be able to experience so many culinary experiences in any other place in Poland. Restaurateurs plan something special for Pjaca that no other restaurant in Warsaw or Poland offers. They have not yet revealed the details of this surprise, but they assure us that it will be a great addition to their unique concept.
- We would like to people to visit Warsaw Brewery not only because they work, live or visit friends here, but also because they just simply like this place. Our recipe is simple – to create here, together with our partners, the Meeting and Flavours District, full of original restaurants, family cafes, cozy pubs. Everything with the unique scenery and surrounded by new high-quality architecture - adds Karolina Prędota-Krystek.
The Pjaca restaurant will be a two-level restaurant that can entertain its first guests at the end of 2020.
Source: Echo Investment