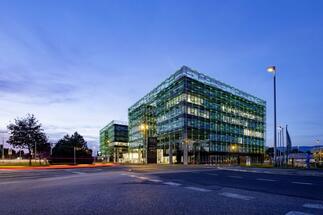 GTC recorded an increase in rental revenues to EUR 126 million (in the same period in 2021, this value amounted to EUR 124 million). This year, the investor sold the Cascade building in Bucharest, Forest Offices in Debrecen and Matrix A and B buildings in Zagreb. The cash at the company's disposal amounts to EUR 128 million. GTC
We have a very stable, operating and financially performing real estate portfolio, and our retail schemes outperform the market. The indexation of rents denominated in euro will create the conditions for a further increase in FFO in 2023, and in the event of any changes in capitalization rates, it will compensate for any negative impact on the value of real estate. We believe that green certificates and rent indexation allow for optimism, our P/B quotes are 0.6-0.7x and the FFO rate of return is around 8%. – says Zoltán Fekete, CEO of GTC.
The occupancy rate at the end of September 2022 was 86%. The weighted average lease term was 3.5 years. In the audited period, lease agreements were signed for over 80.1 thousand sq m. sqm (66,400 sqm in 2021), including 27,700 sqm sqm in Q3 alone (11,500 sqm in Q3 2021) More companies have chosen GTC facilities as their headquarters: so far in 2022, approx. sqm of office space in Forest Offices in Hungary was leased by BT. Dreamshot has signed a pre-lease agreement in Sofia Tower 2 (approx. 2,200 sqm), and Medicover has extended its lease in Globis Wrocław (approximately 1,700 sqm). Companies such as betahouse, Hi tech, Siemens Energy and NIO GmbH also have offices in GTC's properties.
Thanks to the refinancing carried out last year, we were able to significantly reduce financing costs and optimize the debt maturity profile - no significant liabilities expire in the short term. 95 percent Most of our debt is either fixed interest rate or hedged, with an average debt maturity of 4.5 years, which, combined with our strong cash position, shows the strength of our balance sheet," commented Ariel Ferstman, CFO and GTC Management Board Member.