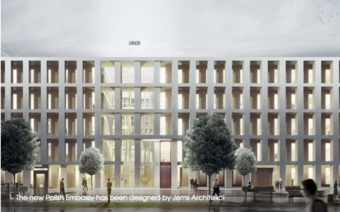 The building, which has been designed by Warsaw-based architectural studio Jems Architekci, will be situated on the Unter den Linden boulevard in the heart of the German capital.
Excavation work is now being carried out by Züblin Spezialtiefbau, another member of the Strabag Group. The design, construction and subsequent operation of the new building is being realised using the BIM 5D method. The construction work has been scheduled for completion in Q1 2023.
The new Polish Embassy will have five storeys and a total area of 10,000 sqm. In addition to offices and rooms for representative purposes, it will also include an underground car park, planted rooftop terraces, two inner courtyards and an atrium.
The Polish Embassy previously occupied the same site on which the new building is now being built, from 1990 to 2014. Since the demolition of the old building in 2016, the Embassy has been housed at an interim site in Berlin's Grunewald district.
Source: eurobuildcee