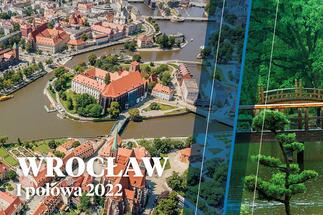 At the end of June 2022, Wrocław's office stock amounted to 1.28 million sq m, which allowed the city to maintain the position of the vice-leader in terms of size among regional markets in Poland.
For years, Wrocław has been considered one of the most attractive cities in terms of quality of life and business potential. There are 28 universities here, with over 27,000 graduates each year. graduates - comments Maciej Moralewicz, regional director at Knight Frank.
Wroclaw office space has increased by nearly 38.2 thousand sq m from the beginning of the year. sqm In the second quarter of 2022, only The Park Wrocław was commissioned, with 2,000 sq m of space for rent. sqm
In Wrocław, there are nearly 103.3 thousand sq m of office space under construction. sqm office space. If all construction sites were completed in accordance with the planned schedule, more than half of the space under construction could be delivered to the market later this year. The largest investments under construction are Infinity (22,000 sq m, Avestus) and Centrum Południe III (20,000 sq m, Skanska).
The volume of leased space in the second quarter of 2022 amounted to over 25.6 thousand. sq m, which was similar to the result achieved in the same period last year. The demand registered in Wrocław accounted for 13.5 percent. all transactions concluded in regional cities from April to June 2022. Looking more closely at the transaction structure, new contracts dominated the volume of transactions - 51 percent. (of which pre-let contracts at the level of 20 percent), and renegotiations were responsible for nearly 28 percent. contracts. Expansions accounted for 21 percent. space leased in the second quarter of 2022 - adds Katarzyna Bojar, Junior Consultant in the Market Research Department at Knight Frank.
Low new supply and high demand contributed to a decrease in the vacancy rate, which at the end of June 2022 amounted to 14.8%. Compared to the previous quarter, the ratio decreased by 1 pp, and year-on-year by 0.7 pp.
Asking rents in Wrocław at the end of Q2 remained stable and ranged from EUR 10 to EUR 16 per sq m. monthly.