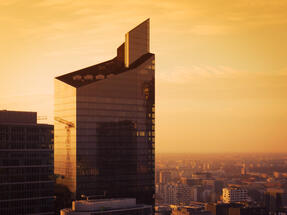 Environmental factors play a key role in the operation of the Skyliner office building owned by the Karimpol Group. Thanks to the contract with E.ON, which guarantees the origin of electricity from RES for the next three years, the Skyliner will be even more friendly to people and the environment in line with the building owners' ambition. Electricity powering the Warsaw skyscraper will come entirely from onshore wind farms. By using RES energy, the building generates a smaller carbon footprint.
"Sustainability is embedded in the DNA of the E.ON Group. We continuously support our customers and give them the tools to enable their green transition," said Mariola Kopcińska, Key Account Manager, Business Customer Division, E.ON Polska S.A. "Every contract with guarantees of origin provides direct support for renewable energy producers. It also ensures that an appropriate amount of green energy will be introduced into Poland's energy system. This type of contract is, in our opinion, one of the most effective ways for companies to go zero carbon," added.
As early as the design stage, Skyliner's owners put in place a range of procedures in the office building at Daszyńskiego Roundabout to limit the negative impact of the investment project on the environment and its immediate surroundings. A range of environmentally friendly solutions were used to reduce carbon emissions and excessive water and energy consumption. These include an energy-efficient high-speed lift system with regenerative drive, automatic external lighting which is switched off at night, equipped with twilight sensors, and a clock to reduce unnecessary lighting operation during the day. The green roofs and surrounding areas are filled with vegetation. This reduces the urban heat island effect, contributes to the reduction of air pollution, and ensures the efficient management of rainwater.
Thanks to its solutions designed to minimise air and water pollution, reduce noise and vibration levels, and limit dust, as well as the addition of further environmentally-friendly procedures, the Skyliner has received a BREEAM Excellent certificate.
"We have installed more than a hundred systems on the three technical levels to ensure the efficient and ecological operation of the Skyliner. What is extremely important for the functioning of the office building, as well as for its tenants, is that the implemented solutions, including electricity from RES, make the service charge one of the lowest among Warsaw's A-class office buildings. As such, the Skyliner is one of the most economical buildings in the capital city," said Szymon Zduńczyk, Executive Director at Karimpol Polska.
source:europa-property.com