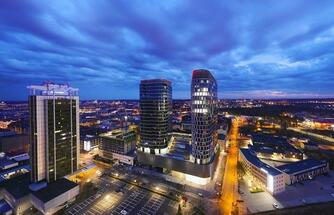 The total stock of modern office space in the main markets outside the capital, i.e. in Kraków, Wrocław, Tricity, Katowice, Poznań, Łódź, Lublin and Szczecin in Q1 2022 amounted to a total of 6.27 million sq m. According to the latest Savills report, "Spotlight: Office market in regional cities", Kraków is invariably the largest office market in the regions (1.64 million sq m).
The continuing advantage of new lease agreements over their extensions gives very good prospects for further development of the Krakow office market. Stable supply growth combined with increased demand should contribute to the gradual absorption of vacant space in the coming quarters - forecasts Agnieszka Kuehn, regional manager, office space department, Savills.
Since the beginning of the year, 16 new investments with a total area of ​​243.5 thousand square meters have been put into operation in regional markets. sq m It's about 8 percent. more than in the whole of 2021. It is also the highest quarterly result in the history of regional markets. The largest new projects include: Global Office Park A1 and A2 in Katowice (55,200 sq m), KTW II in Katowice (39,900 sq m) and Midpoint71 in Wrocław (36,200 sq m) .
At the end of March 2022, the largest amount of new office space under construction was in Wrocław (172,000 sq m). It was also in this city that the highest demand was recorded in Q1 (38,400 sq m).
In the capital of Lower Silesia, we are witnessing a growing activity of tenants. Thanks to new projects, the offer of offices from which companies will be able to choose a place for their new headquarters will soon expand. Wrocław mainly attracts BPO / SSC center operators and IT companies planning to make their debut in Poland - comments Bartosz Plewa, regional manager, office space department, Savills.
According to Savills data, 153.5 thousand sq m was leased in the first quarter of 2022 in regional markets. sq m, which is a 57% increase compared to the same period in 2021 and 29%. decrease compared to the previous quarter. Despite the high level of absorption (over 117,400 sq m), the average vacancy rate increased to 15.5%. This indicator decreased only in Szczecin and Poznań.
Poznań ranks fifth among regional office markets in terms of size. However, in the first quarter of 2022, developers did not commission any new building in this city, which translated into a slight decrease in the vacancy rate - explains Piotr Skuza, regional manager, office space department, Savills.
The level of rents for office space in regional cities has remained stable for the time being and ranges from EUR 10 to 15.5 per sq m. monthly. The exceptions were the markets in Łódź and Katowice, where there was a slight downward correction. According to Savills' forecasts, rents are expected to increase in the near future, along with the progressive absorption of space, rising construction costs and inflation.