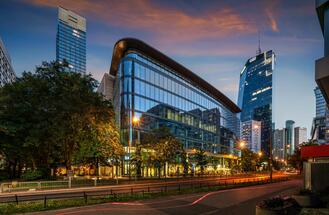 OmniOffice business centre has been set up to provide the highest quality work environment for companies and institutions. It offers work-ready serviced offices with reception desk services, as well as conference rooms, single desks and virtual offices on flexible lease terms. OmniOffice has been present in the market since 2013. Grzybowska Park is the provider's sixth location in Warsaw.
"Grzybowska Park is unique on the office map of Warsaw for its prime location and character. We decided to launch new OmniOffice serviced offices in this building on account of its eco-friendly solutions, own garden and timeless design. As the flex office market has great growth potential, we want to offer our current and future clients accommodation in yet another location," says Piotr Woźny, CEO, OmniOffice.
Tenants opting for OmniOffice serviced offices in Grzybowska Park will have access to all of its amenities. The building offers not only offices, breakout zones, café facilities, and an underground car park, but also bicycle racks, self-service repair stations, shower cubicles, and changing rooms available to cyclists. The property also has a private garden for use by office employees during work breaks.
"Grzybowska Park is not just a building, but a true combination of a vibrant business destination in the heart of Warsaw and harmony and relaxation in its green surroundings and the beautiful park nearby. It attracts strong occupier interest and is home to prestigious companies. We are pleased that the serviced office provider has now signed up to join its tenants. I am confident that OmniOffice clients will also appreciate the advantages of this location and its services will be an additional asset for the building's existing tenants," says Lidia Malec, Associate Director, Office Agency, Landlord Representation, Savills.
Grzybowska Park is a boutique building offering 10,370 sq m of office space in the center of Warsaw. In 2020, it saw the completion of refurbishment works in its reception area, lift lobbies, and toilets on each floor. Additionally, the HVAC system was upgraded in newly fitted offices to provide a comfortable work environment with an optimal temperature level and appropriate air ventilation. Other new tenant amenities include shower facilities for cyclists and redesigned garden surroundings with street furniture and new plants.
source:europaproperty-com