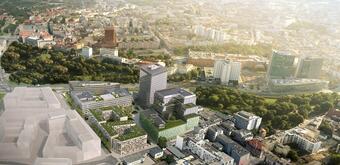 Nowy Rynek is an investment located on the crossroads of Poznan's main arteries, in the very heart of the city's fastest developing quarter. It is surrounded by the parks and historic buildings of Wilda.
Skanska has launched construction of the third office building of Nowy Rynek. The building will provide about 27,000 sqm. of modern office space. Work has also begun on the underground part of the third and fourth building. The project is scheduled for completion in Q2 2021. The building will stand at the intersection of Wierzbięcice and Wujka streets. It will combine office and retail functions. About 10 000 people will be able to work at the entire complex.
The third building, like all the other buildings in the complex, will apply for the LEED Gold certificate as well as "Buildings without Barriers" certificate which confirms that a building and its surroundings are adapted to the needs of people with disabilities, families, older people and non-Polish speakers. The project is being realized in accordance with the assumptions of the WELL certificate, one of the most demanding certification systems that measures the quality of office space. Buildings that meet WELL standards create a comfortable and healthy work environment. Upon completion, the building will apply to become WELL Certified.
– We commercialized the first two buildings of Nowy Rynek very quickly. This is why we can now begin the construction of next building of our current investment in Poznan. The complex is well located, near the city center where office space is currently in short supply. The project is drawing a lot of attention from some of the Poznan's major employers – says Mariusz Krzak, Regional Director at Skanska's office unit in Poland.
The first building of the Nowy Rynek complex was bought by Franklin Templeton Investments. The second has been almost fully leased.
– The demand for office space in Poznan remains high. Owing to the high interest in modern office space we are able to continually diversify our tenants portfolio. At the same time, we are observing constant growth in the business process outsourcing (BPO) and shared services centers (SSC) companies which should result in increased tenants' activities in 2020 and 2021– says Małgorzata Wojtoń, Leasing Manager as Skanska's office unit in Poland.
Multifunctional space
Nowy Rynek project will give the citizens of Poznan a public space which they will be able to use in a variety of different ways – working in the new office buildings or relaxing in sidewalk cafes. The project is set to become an important part of a new city quarter, developing urban landscape of Poznań.
Skanska has invited the best architectural design studios in Poland to develop individual buildings. The first two have been designed by Maćków Pracownia Projektowa. The third and fourth building is the brainchild of medusa group.
Source: Skanska