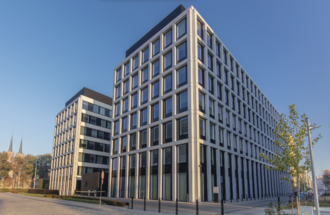 As a company that is successful in investment management throughout Europe, we were looking for a strategic partner who could provide us with property management services in Poland. After a meticulous bidding process, we decided to choose MVGM. It is a brand with strong competences in the field of real estate management and we are deeply convinced that thanks to the exchange of knowledge between its European branches, it is guided by the best management practices. Such know-how in the business environment created by the pandemic is extremely important,
comments Jacek Brzozowski, Director of Asset Management in Poland, PATRIZIA AG.
PATRIZIA manages assets worth over EUR 47 billion and has over 400 institutional clients. It has been operating in Europe for 37 years, gradually expanding its expansion to other continents. It has 24 offices, including 19 in the EU, Great Britain and Ireland, thanks to which it is positioned in key real estate markets. The investments that PATRIZIA puts into the management of MVGM are eight office buildings located in Warsaw and one in Wrocław.
Cooperation with the PATRIZIA fund is a great honor. The scope of our contract includes comprehensive management of entrusted real estate, including project management, marketing consulting, and central processing and presentation of portfolio data. We are also responsible for the space lease process in which we cooperate with the JLL team. The facilities that have joined our management portfolio are prestigious office locations, perfectly located and communicated, offering many amenities related to the proximity of popular business and tourist spots in Warsaw. Among the modern spaces of high standard are buildings with an excellent history and architecture, incl. Royal Trakt Offices at Al. Ujazdowskie. We are pleased that we are responsible for other, so unique places on the office map of Poland. By expanding our cooperation with the same clients on many markets, we are strengthening our position as a leading property management company in Poland and Europe,
says Łukasz Mazurczak, Managing Director, MVGM in Poland.
MVGM is one of the largest real estate management players in Europe. The company operates in 10 countries, with a portfolio of 18.5 million sq m. In Poland, the MVGM team consists of 120 experts who manage a portfolio of 1.36 million sq m. as part of office, commercial and warehouse facilities.