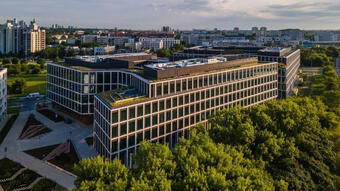 The office building is part of the city-forming Moje Miejsce (also known as My Place) project that forms a multifunctional urban quarter combining office buildings, apartments, service outlets and well-designed public spaces. Moje Miejsce II office building offers nearly 17,000 sqm of leasable space and its tenants include Tchibo, NetWorks, Boehringer Ingelheim or Ekaterra, among others.
"The transaction is yet another proof of the great interest of both investors and tenants in multifunctional, sustainable destination projects consisting of both residential and offices combined with services. Moje Miejsce, as a mixed-use investment, not only enjoys the strategic location but can also be distinguished by its sustainable solutions, comfortable working space and timeless design, We are thrilled to be able to continue our cooperation with Trigea Real Estate Fund in Warsaw. This is our second deal together within 12 months which only proves the mutual trust and shared vision of the Polish commercial real estate market," says Judyta Sawicka, Head of Investment & Divestment at Echo Investment.
The entire Moje Miejsce destination project is already fully operational and completed. Echo Investment has paid a lot of attention to the development of supplementary infrastructure and green areas. A total of nearly 120 trees were planted within the project and in public areas along the surrounding Dziekońskiego, Beethovena and Aignera Streets. The office part of the project uses energy-efficient and pro-ecological solutions and technologies that support sustainability, which is confirmed by BREEAM certificates. The project was designed by JEMS Architekci.
"Moje Miejsce II, thanks to the ecological solutions and reputable tenants, is an excellent investment product with a guarantee of stable income for a long-term investor. And after MidPoint 71 in Wroclaw, we are glad to work together with Echo Investment on yet another great project," Tomáš Trčka, CEO Trigea Real Estate Fund.
Trigea Real Estate Fund a Czech real estate fund established in 2019, is currently one of the fastest-growing funds in Czech Republic. Trigea focuses mainly on commercial properties, especially office buildings and retail. The fund operates in Czech Republic and Slovakia and may soon enter another CEE regions.
Colliers, JLL and Greenberg Traurig advised the seller, while Cushman & Wakefield, ASB Poland and CMS acted as the buyers' advisors on the deal.
Source:property-forum.eu